Two very familiar names lead off a list of six rumored contenders. Fringe's J.H. Wyman takes us inside his new robot cop show Almost Human. Check out the latest photos and videos from the sets of The Amazing Spider-Man 2 and Transformers 4. Plus True Blood, Once Upon a Time in Wonderland, and all the CW shows! Spoilers now!
Top image from Man of Steel.
Man of Steel 2
The Man of Steel sequel — which likely will ultimately be called either Superman vs. Batman or Batman vs. Superman — still needs to find a new Caped Crusader to replace the departing Christian Bale. While the casting process likely hasn't even begun — considering the script still isn't written — Heat Vision reports that the idea is to cast someone "in the late 30s or around the 40 mark" who is "established and rugged," thereby skipping right past the origin story that Batman Begins already covered pretty definitively.
There are six names reportedly being bandied about for the role. The frontrunner is reportedly Josh Brolin, who has worked extensively with Warner Bros., including starring roles in Gangster Squad and Jonah Hex, although at a relatively mature 46 he might be pushing the supposed age requirements. The other really big name connected to the role is Ryan Gosling, who has shown in movies like Drive a Christian Bale-like gift for righteous, mildly psychotic intensity. The other contenders include Pacific Rim costar Max Martini, True Blood's Joe Manganiello, The Hobbit's Richard Armitage, and Matthew Goode, who previously played Ozymandias in director Zack Snyder's Watchmen. It's thought that, given Warner Bros.'s accelerated schedule for the film, the role could be cast in as soon as the next few weeks. [Heat Vision]
---
X-Men: Days of Future Past
X-Men: First Class actor Lucas Till explains the plot of the movie and how his character Havok ever so briefly fits into it:
Basically, a war is taking place in one of the timelines. In the "First Class" cast's timeline there's a war during around the time of President Nixon you may be familiar with. That I may or may not be involved in. [Laughs.] That's kind of my involvement there. It was fun to just show up and use my blasts and get to go back to my other movie. It was a nice vacation.

Are there any shout-outs to Havok's original comic-book costume in this film? It was quite… distinct. Do you get a chance to work his headbands?
No. Yeah, I'm so glad that's not in the movie. [Laughs.] That's the one thing… In the last movie the one thing I was really upset about. Not in the way John Dykstra, who I have so much respect for and is always creative, did it. I love that there was an arc for him. But when I found out initially, thirty seconds before I had to do those hula hoop things that I'd never really seen Havok do in the comics [laughs], I wasn't too happy about it. Bryan gave me a lot of liberty in this one to do what I wanted to do, and what I've seen in the comics, and maybe reinvent it a little bit. But that was the only thing that really kind of bugged me, and hopefully we can remedy that in this one. It's always out of his body in some way. It's never out of any specific part. Sometimes it's both hands forward. So I got to play around with it.
G/O Media may get a commission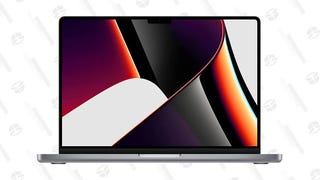 Save $300
2021 14" 1TB MacBook Pro
He also says he's not sure whether he worked with any original cast members, but he knows he didn't work with James Marsden as Cyclops, who is theoretically some sort of relation – they are brothers in the comics, though Till says, in terms of the movies, "all we really know is they share the same last name." [Coming Soon]
---
The Amazing Spider-Man 2
Chronicle star Dane DeHaan tweeted this photo of himself as Harry Osborn alongside Andrew Garfield's Peter Parker. [Coming Soon]
---
Transformers 4
Here are some set videos from the recent filming in Detroit at the set meant to replicate parts of China, including Hong Kong. [TFLAMB]
---
True Blood
Costar Deborah Ann Woll discusses whether Jessica will try to save Jason:
First she has to find out he's in trouble, which is coming up. For Jessica, Jason following her in there is a beautiful gesture that he's made, but now he's put himself in danger. The last thing she wants, knowing in her mind that she's going to die and there's nothing that anybody can do about it, she certainly doesn't want him to die with her. She cares deeply for him and feels like she's hurt him more than he ever deserved to be. That scene of her letting him go was like, "I'm not worth it. Get out of here." We'll see if they're able to come out of this.

Because all of the Tru Blood is contaminated with Hep-V, what steps will our vampires take to avoid drinking it?
They have to be careful. If they're too open about it and the authorities know, they'll find another way to kill them. They'll force-feed them or something, which means they have to sacrifice a lot of vampire blood. We can only really tell the few people we love and try to keep it quiet. That's the plan for now.

With Jessica thinking that she deserves to die, how does she feel about the prophecy possibility coming true, especially since her maker Bill is putting his own life on the line to save her?
She doesn't want to take any active steps towards saving herself, but she doesn't feel that her friends deserve to die and that anybody should die risking themselves for her. She's of the mindset that she will help people out to the extent that it saves vampire kind, but she's trying to come to terms that it may not save her in the end.
There's still more at the link. [TV Guide]
---
Almost Human
Erstwhile Fringe co-showrunner J.H. Wyman discusses his new sci-fi show for Fox, in which humanoid robots work alongside human cops:
"I think we've all seen the robot that longs to be human. It was better for us to have a robot that was more human than he can handle. He's trying to understand what he is versus wanting or longing to be something he's not. This is a police drama. It's about hardworking, brave people on the front line of a future that's just a stone's throw away. We're hoping that people care about them. I'm more interested in knowing about these people's lives. It's such an incredible arena to tell great stories about the human condition… It points out why we're so flawed, but also so exceptional. Are we losing sight of these things in the future? Things change, sometimes for the better and sometimes for the worse."
There are some more quotes from other members of the creative team at the link. [TV Guide]
Elsewhere, Wyman explains how the tone of this show diverges from other future-set stories:
"Most of these incredible novels or imaginings of the future are post‑apocalyptic, very dark, and it seems to me that the writers who wrote them were saying, 'Do you know what? Humanity [is] really messed up, and look at what we have to get out of,' which is an interesting and very worthy topic, and I get it. But that's not what I'm really interested in or writing about. I'm writing about that I believe in hope, and I believe that we are good. And I believe that we are smart, and I believe that we are going to stop anything terrible from happening. I believe that I want to tell those stories, that it's not too late for humanity; that humanity has to deal with some incredible technological advances that double and triple and quadruple the dangers that we face as a society and as a human race. But I do think that we have the tools to deal with them. It's just like, hey, technology is not bad. It's how we use it … We want to tell stories about where the human race still has a chance, man."
And star Michael Ealy discusses the challenges of playing the robotic side of the main duo alongside Star Trek's Karl Urban:
"As an actor, you tend to draw on your human instincts and your background, what you've gone through. The hardest things in playing Dorian is to act like I don't have that and to bring that kind of innocence to him that he doesn't have the experience, the life experience that Karl [Urban's] character has. So he's fascinated with that, and he observes it, and he learns from it … For me, what it comes down to is this — I hate to simplify it ‑‑ but I tend to try and reduce Dorian sometimes to make him somewhat childlike in that he's just innocent in terms of observing what's going on around him."
[EW]
And here's a brand new promo:
---
Once Upon a Time in Wonderland
Here's a new promo.
Barbara Hershey will reprise her Once Upon a Time role as the Queen of Hearts in flashbacks, and Naveen Andrews will appear as Jafar in the premiere. [@KecksExclusives]
Showrunner Edward Kitsis explains the tricky partnership between Jafar and the Red Queen:
"Like any partnership with two villains, neither trusts the other. Like all our characters, what she truly wants is something she cannot get through magic and power alone. We wrote this part for [Andrews]. We knew we wanted Jafar, we knew we wanted Naveen. Similar to what we do with Once Upon a Time, no villain is just born evil, they're made evil. For us, that is the story of Jafar, the story of what is driving him to need this power. With Naveen, we know he can break your neck with legs — as we saw in Lost — but he can also make you cry."
However, Kitsis also revealed that Jafar will not have a parrot, so now I don't know what to think. [EW]
---
Under the Dome
Here's a trailer for tonight's episode, which will reportedly feature two deaths – one after a power struggle and one under more mysterious circumstances. [EW]
---
Person of Interest
The fourth episode of season three is reportedly called "Reasonable Doubt" and will feature an "intelligent and intense" former prosecutor named Vanessa. [SpoilerTV]
---
Grimm
Episode four of the third season is reportedly called "One Night Stand" and features a Naiad called Elly. [SpoilerTV]
---
Travelers
ABC has reportedly picked up a script from Life of Pi writer David Magee. The planned show is about "a man who brings his family to a wake for the father he never knew, only to discover that the doors inside his father's estate are time portals which trap them in the house and send them on a journey through history." [Deadline]
---
Arrow
Orphan Black actor Dylan Bruce will appear in the first and third episodes of season two as "Laurel's new co-worker Adam Donner, a corn-fed, All-American lawyer who is described as smart and charismatic." [TV Line]
The fourth episode is reportedly called "Living Is Not For the Weak." [SpoilerTV]
---
Supernatural
Showrunner Jeremy Carver says one episode will explore the "Men of Letters" mythology:
"We'll be delving alot more into that and in fact we'll be seeing the very first two hunters to ever be stationed at the men of letters bunker. That's a really, really fun episode we have coming up early in the season where we will be flashing back to 1935."
[EW]
That news ties in rather nicely with this report: The fourth episode of season nine will reportedly be called "Slumber Party," and the episode "will flashback to a 1930s character named Haggerty and have a huntress named Dorothy." [SpoilerTV]
---
The Vampire Diaries
True Blood and Arrow veteran Janina Gavankar is reportedly joining the cast for season five as Tessa, a recurring character described as "a beautiful, exotic and self-assured woman who comes to Mystic Falls to rekindle an old flame." She makes her debut in the third episode, which is a flashback episode. [TV Guide]
---
The Originals
All My Children actress Shannon Kane has reportedly joined the cast in the recurring role of Sabine, described as a "wild, bold and sexy… street-smart tour guide in New Orleans who also happens to secretly be a leading member of the French Quarter's witch community." [E! Online]
---
American Horror Story: Coven
The first three episodes of the new season are reportedly called "Bitchcraft," "Boy Parts," and "The Replacements." So, no, this show hasn't changed at all. [SpoilerTV]
All right, fine, for slightly more detailed analysis, let's go to Tim Minear:
"I think some of the bigger themes this year is oppression of minorities of all kinds and within that idea, the idea of minority group going after each other and doing the work for the larger culture. There's a very strong feminist [idea] there, there's also themes of race and themes of oppression and a very strong theme of family, specifically mothers and daughters. Those are some of the things we'll be exploring this year… I would say the fun quotient is higher this year. This year is a drama but there is a lot of humor and… we are embracing a sort of velocity and fun with the series this year. I think it might be a little more welcoming to an audience."
It was also revealed that returning cast member Sarah Paulson is playing the daughter of Jessica Lange's character. [EW]
---
Additional reporting by Katharine Trendacosta and Charlie Jane Anders.