T-Mobile is finally giving us the dirty details on their Galaxy S II, and they've got a couple of other surprises, too, including the shutterbuggy HTC Amaze 4G, and some 4G HotSpot goodness.
Samsung Galaxy S II
Yes, T-Mobile didn't get it first, but they might just be getting it best. This version of the Galaxy S II is similar to those on AT&T and Sprint, but it sets itself apart in a couple key ways.
• It's got NFC, which Sprint's doesn't. With the launch of Google Wallet (and more on the horizon), this is a big, big deal, and it basically assures that you'll be getting in at the ground floor of mobile payments as they start to get huge (the AT&T version also has NFC; Sprint's doesn't).
G/O Media may get a commission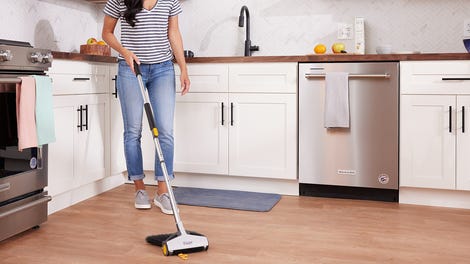 BOGO 50% Off
Flippr - BOGO 50% Off
• While Sprint and AT&T are both going with 1.2GHz dual-core Exynos processors, the T-Mobile version will have a 1.5GHz dual-core Snapdragon processor. It's an interesting move. On paper, you'd thing that this is .3GHz faster, right? But the Exynos processor absolutely flies thanks to a killer built-in GPU.
• And it's got the same massive 4.52-inch Super AMOLED Plus Display as the Sprint version. It'll have Samsung's TouchWiz UI naturally. Assuming it does, this will almost certainly be our pick for best phone on T-Mobile.
Pre-sales begin October 10th and it'll be in stores on the 12th for the not-at-all-low cost of $229.99 after a $50 rebate. Ouch.
HTC Amaze 4G
The camera is presented as the star of the show here, and it's being marketed toward people who want to use their phone as their camera. A lot. And that's actually not a bad thing, as it doesn't seem to cut corners other places to accomplish this. It looks like it's got that same backside-illuminated image sensor that we really liked on the myTouch 4G Slide. Oh, and what's that on the side? Is that a dedicated shutter button and a dedicated video camera button? That would be a first.
Camera aside, this thing isn't wanting for power. It's rocking a 1.5GHz dual-core Snapdragon processor (same as the Galaxy S II) and 4.3-inch qHD super LCD touch-screen display at 540 x 960 pixels. We've had our hearts broken by qHD screens before, so we'll see if this one can outdo the others.
This too will be pre-order-able on the 10th and buyable on the 12th, but holy balls it's even more expensive than the Galaxy S II! $259.99 after rebate? Are you kidding me?
T-Mobile Sonic 4G Mobile HotSpot
Last but not least, there's the Sonic 4G Mobile HotSpot. Well, maybe it is least, but that doesn't mean it sucks. It's the fastest Wi-Fi hotspot on T-Mobile's network at 42Mbps, and it can provide internetty juice to up to five devices at the same time. A sizable 2200 mAh battery should power you through 4.5 hours of constant use. One of the weirder features (gimmicks?) is that this thing has a microSD card slot, allowing you to share photos and such with anyone connected to the network. Seems incredibly pointless if you ask me. When 4G isn't available it'll automatically switch to 3G to keep you connected, albeit at a slower rate.
All of this stuff is set to come out within the month. Start working overtime if you hope to afford it.
---
You can keep up with Brent Rose, the author of this post, on Google+ or Twitter.