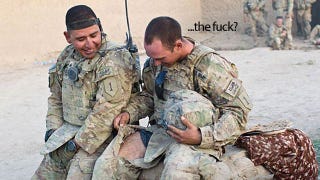 Our soldiers just got one more enemy in Afghanistan: their own pants. It seems their pants—which are completely new and supposed to be more durable than previous models—can't survive the rigors of the desert. They're ripping apart seemingly at random.
The new pants seemed perfectly fine. They use tightly stitched flame-resistant Defender M fabrics and Christian at Kit Up! says their "crotch design" is fine! But they can't survive up to the daily life of Army soldiers, and they get ripped right, left and center. The problem is so bad that the Army had to get back to select a new fabric, 40% stronger than the current material. They are currently making 100,000 new uniforms in Union City, Georgia.
Hopefully they will finish and ship those 100,000 new uniforms soon. I hate the idea of soldiers fighting on the battlefield and getting a big rip on their pants just at the wrong time and place.
Are you a soldier stationed in Afghanistan? Are your pants breaking? Tell us in the comments. [KitUp!]
Photo by Michael Yon