In the heart of downtown Montreal, between a boarded-up bar and a poutine shop, there's a three-story glass building. It looks for all the world like realtor's office — that is, until you spot the sign swaying in the wind: "Bitcoin Embassy."
The idea of a brick-and-mortar embassy for a digital payment system most often associated with online drug markets might seems a little strange at first. After all, Bitcoin is a currency — an entire philosophy, really — founded on the notion of no central control. So having one building to preach the crypto-love to the masses seems a little disingenuous.
Even stranger is the Embassy's location. It seems like it should be in the heart of Silicon Valley; but instead, it's in the nightlife district of Montreal, Canada.
So it was with an apprehensive mind — and a stomach full of poutine — that I pushed open the Bitcoin logo-emblazened doors. Francois Pouliot, the Embassy's Communications Director (and the Embassy's only paid employee) greeted me with a handshake and a Bitcoin tie-pin.
The public-facing side of the building is a cross between a doctor's waiting room, and the merchandise store at a Guns & Roses reunion concert: everywhere you look, there's Bitcoin t-shirts ('Keep Calm and Carry Bitcoin'), Bitcoin bumper stickers, Bitcoin bookmarks.
G/O Media may get a commission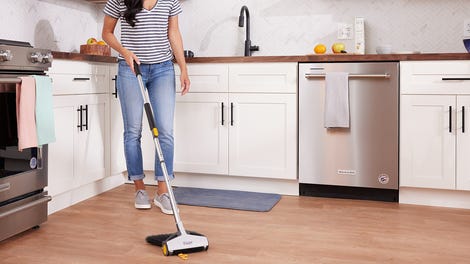 BOGO 50% Off
Flippr - BOGO 50% Off
At the front desk I met an intern, a student from the local university's cryptocurrency club, surrounded by a tennis court's-worth of flatscreens. He runs the Embassy's most useful public function — namely, helping anyone who walks in off the street to buy and sell Bitcoin for cold hard cash.
The Embassy used to have a Bitcoin ATM to do the work, but that was out of action in a corner, thanks to overzealous provincial regulators. Instead, I handed money to the intern, who fiddled with a tablet for a few seconds before telling me my wallet was 0.089 Bitcoins heavier. It's a little strange to think, but the easiest way to buy a digital currency is still with a $20 note featuring the Queen's face.
Although it's only been open for 18 months, old mining rigs litter all three floors. Some are scattered out front, for the public to ooh and ahh over; the others get used as doorstops, or heaters if someone gets cold. As you'd probably expect, the Embassy mines Bitcoin — not on the scale of a professional operation, but enough that the entire building is heated as a byproduct of the number-crunching. (And given that winter temperatures drop below -20F here, that's saying something.)
The Embassy itself is split over its three floors. On the ground are a few small cubicles, with Bitcoiners firmly wired into their computers. The second floor looks like a luxury apartment — mostly because it is. The building was donated by Jean-Marc Jacobson, the founder of the Embassy and a local real estate developer. Although he doesn't crash in the apartment any more, the room still has a bed, a kick-ass home theater system — and, of course, a five-foot-high Bitcoin logo on the wall. It's still used for events, and occasionally burnt-out Bitcoiners in need of a nap will crash here.
The top floor, however, looks and feels like an office (albeit one with dead power supplies and stacks of fans on every desk). It houses a variety of cryptocurrency startups, from alt-coin projects to people working on a certification for Bitcoin expertise.
At the moment, the Embassy's purpose is split. A major focus is on educating the general public about Bitcoin, be that through distributing flyers, organizing Bitcoin giveaways, or Bitcoin 101 seminars. It also lobbies regulators, and tries to bring banking institutions up to speed on cryptocurrency.
But at heart, the Embassy is a hub for Bitcoiners and their projects. If you've got an idea to do with cryptocurrency, they'll give you an office space, an internet connection, and more Bitcoin buttons than you know what to do with.
The Embassy's COO, Mathieu Gagnon, describes the organization as "a cooperation of entrepreneurs, volunteers, industry members, who come together for one specific purpose." Reading between the lines, you get a feeling for that purpose: helping Bitcoin take over the world.
To understand why someone donated a prime piece of real estate to a fledgling currency, or why the Embassy's staff upped sticks and moved to Montreal to work there, you have to understand the philosophy that's attached to Bitcoin.
At its most extreme, it's a belief that Bitcoin can help arm the people to rise up against the oppression of the federal government; listening to the more reasonable folks at the Embassy, it's the idea that Bitcoin lessens the power and necessity of central government and the banking system, by removing their control over money
In a way, that explains why Quebec is a logical place to house the first Bitcoin Embassy: skepticism of the federal government is deep-rooted here, thanks to a long history of anti-Canada separatism. And hey, if Quebec ever makes the jump away from the rest of the country, it could always use Bitcoin to replace those loonies and toonies.
That still leaves one important question, though: how did a building that's half lobbying shop, half Bitcoin startup, come to be called an Embassy? The COO, Mathieu Gagnon, told me it was a decision born out of necessity:
Bitcoiners were persecuted by the banking system, and the Embassy provides a safe haven of sort. We were persecuted both in terms of mindset — everything thought that [Bitcoin] just wasn't going to work — and practically. We were blacklisted: if you had any kind of Bitcoin business, it was impossible to open a bank account. Now, it's no longer fashionable to bash Bitcoin, even in financial circles.
That said, the name has confused some people. Members of the public apparently walk in from time to time asking which country's embassy it is. And the Embassy can be perplexing for the Bitcoin community sometimes, too. Bitcoin's design as a decentralized system is one that doesn't exactly encourage large, visible institutions. The community didn't appoint the Embassy, so why should anyone listen to it?
Gagnon's claim is that the community needs a visible, physical entity:
Regulators need to talk to someone — let's say, this bank wants to use Bitcoin, or this payment processor wants to use Bitcoin, they need to talk to some people. They could individually go on forums, or they could come to us, talk to us.
Although the Embassy was Bitcoin's first physical presence in the world — if you discount the fiddly Bitcoin ATMs — it's far from the first formal Bitcoin organization. Probably the biggest, and certainly the most infamous, is the Bitcoin Foundation. Its role within the community has been heavily criticized. Damning financial statements from the Foundation have been leaked to the web, and it's on the third Executive Director in six months.
Gagnon thinks that by not asking for money, and pushing for community involvement, the Embassy's largely managed to avoid similar problems. Not having to pay rent — and not overseeing the downfall of Mt Gox — probably helps, too.
When I talked to Gagnon and Pouliot, their fervent passion for cryptocurrency was obvious. It's not just about libertarianism or the technological marvel of the blockchain that fuels Bitcoin's anonymous system of authentication.
Get Pouliot talking on Bitcoin's economic underpinnings (he left his job as an economic analyst to come work at the Embassy), and you'll get a full lecture, complete with whiteboard graphs, on the value of the currency. Gagnon exudes a quiet confidence in cryptocurrency's legitimacy — it's just a matter of when, not if, we all get our wages in Bitcoin. These guys are in it for the long haul.
The Bitcoin Embassy — and the people inside — aren't online drug dealers, and they're not trying to spin Silicon Valley (or Quebec) off into another country just yet. It's like any community of geeks, working on a project they believe in. The only difference is that they occasionally have to turn away lost tourists hoping to replace their passports.