Jewel Staite is best known for playing the mechanic Kaylee on grungy space-opera show Firefly. But if the writers of Stargate Atlantis have their way, she'll become better known for being bound and gagged in the woods. She mentioned on the Stargate panel at Comic-Con that her character, Dr. Keller, is in bondage in a few upcoming Stargate episodes, not to mention being pinned to a bed by an alien spore recently. We had to ask her about this, plus the differences between Firefly and Stargate. And what she thinks Kaylee is doing right now.
So what's it like going from a show like Firefly that's kind of gritty and down on their luck to a show like Atlantis where there's lots of fancy gadgets?
Everything's clean. Isn't it like super clean? I'm always afraid to put my hand on the glass. I'm just leaving fingerprints all over that set all the time. Everything's nice and gleaming. The best thing about it for me is that they're in their groove. They've been at it for so many years that they're very blase, and they shoot like 10 pages in 12 hours, which is unheard of. And we wrap every day at the 12th hour, which is also unheard of. So it's just like this well-oiled machine, they're all reading each others' minds or something. But I guess that comes after 10+ years of working together. I felt new for a bit, I don't feel that new any more.
Was it fun having the alien spore taking over your body? (Shakes her head.) No? Dude, alien spore!
G/O Media may get a commission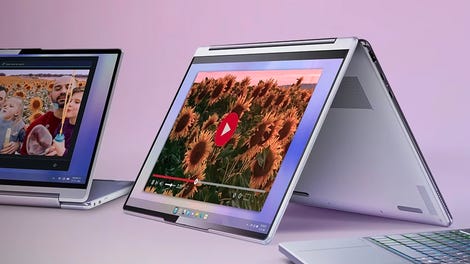 up to 70% off
Lenovo Spring Clearance
No! It was the weirdest thing in the world. I was basically pinned to the bed literally, they had a prosthetic blanket that went over me, and they glued pieces of the blanket to my face. So once I was in, I was in. It took like half an hour to get out, and then another half hour to in, so if I really really had to go, they would let me out, but I knew it would be a big hassle, so I just laid off all the fluids and I went to the happy place, that's where I was. Yeah. That was so bizarre. I just laid there and David Hewlett (Rodney McKay) was feeding me at one point. It was a bonding experience. It wasn't that bad. I basically laid there and relaxed in a very comfortable bed. It could have been worse. An odd way of working, for sure.
So I understand that Dr. Keller gets tied up in the woods in like every other episode of Stargate. What's up with that?
Yeah, I don't know what that's about. In season four, I was kidnapped and bound and gagged. This year, it's happened to me twice so far. And I just read yet another script where I am again bound and gagged. I don't know what I did.
Is there a site somewhere where they're charging five dollars a minute? Is it a fetish thing?
Maybe that's what it is. I'm starting to wonder. It's a fetish thing. And it's the same writer every time that writes the episode where I'm being kidnapped. Maybe he likes seeing me dragged through the woods. I don't know what's going on. And you know what? I don't question it. I guess. At least he's writing for me.
So I understand Joss Whedon said you had to gain weight to play Kaylee. Was that annoying? Was it fun?
I was daunted at first by the prospect. He basically told me he wanted Kaylee to be voluptuous and rounded and womanly. So I stopped all exercise, cease and desist with the gym membership, went in the garbage, and I ate cheeseburgers for three weeks. It was bliss. And then I started to feel kind of full and I had no cravings, because I ate everything in sight. And then I was like, eh, this is boring. With Serenity he let me be myself and not gain the weight. So I was happy about that. I was sick of being full.
So in your mind, are Kaylee and Simon off somewhere spooning?
Making babies? God I hope so. I think that was the whole intention there.
You're like the only Joss Whedon character ever to have a happy ending.
That's true! Yet. I mean, who knows? He's doing these comic books now, Serenity comics, and and every time I read it I flip to the end to see if Kaylee is still alive.
We want you to be alive for Serenity II.
I know! You have to ask him. I get asked about Serenity II all the time. And I'm like I'm not the one who writes it. Talk to that guy. (Points at Joss.)