With enough data, even the most seemingly random, disconnected sequence of events can be teased apart and explained through the power of statistical analysis. And thanks to the reams upon reams of data points collected through his hit dating website, OKCupid co-founder Christian Rudder explores the kinks, tendencies, habits, and patterns that make up the American public's collective psyche.
From our tastes in porn to our views on personal hygiene, Dataclasym breaks it all down. How does your state stack up against the combined tastes of the entire nation?
---
Geocultural insights can be found in other sources, too, and though in most of them you lose the immediacy of Twitter, you get a different kind of depth in its place. When websites pose questions directly to their users, we have a chance not only to refine borders but to show they don't really exist as normally conceived.
Below are one million answers to "Should burning the flag be illegal?" collected by OkCupid. Here my mapping software drew no political or natural boundaries, it just organized belief according to latitude and longitude. This is truly a nation defined by its principles, or, as you can see, two nations: Urban and Rural. You can even see where one encroaches on the other: the rural communities up the Hudson River and in Northern California's wine country, built up with Big City money, have Big City opinions as well.
G/O Media may get a commission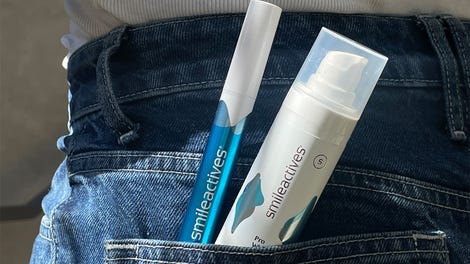 58% off
Whitening Powerhouse Pen & Gel Duo
Similarly, and in support of the earlier Google Trends finding that homosexuality is universal, we see that same-sex searches have no borders, no state, no country. Below is a plot of gay porn downloads, by IP address, taken from the largest torrent network, Pirate Bay. This map, too, is without any pre-drawn guides, and as opposed to the OkCupid plot above, its theme is solidarity: from Edmonton and Calgary down to Monterrey and Chihuahua, this is just where people live.
There are as many ways to draw maps as there are sources of data. We've been slowly working our way up off the page, building a psychological dimension—how we feel about the flag, porn—on top of our maps. But it's possible to go the other way: data can tie abstractions back down to earth. Take cleanliness, again via OkCupid. This is how often people say they shower:
On the one hand, the broad trend merely reflects the weather: where it's hot, people shower more. But down in the details there are a pair of good stories. In Jersey's lightness, you can read the gym/tan/laundry grooming obsession of Pauly D and the Situation—Jersey is much more fastidious than the surrounding states. And in Vermont you find the opposite philosophy: the crunchiness is more than just a stereotype. Vermont's the most unwashed state overall, and truly an outlier compared to its immediate neighbors. According to Google the state animal is the Morgan Horse. It should be a white guy with dreads.
Politics, weather, Walmart, and certainly earthquakes all have a strong connection to the physical world, but in some of our data we can begin to see an exclusively inner geography. Take lust, which in theory, should have no state. But here we see it does, and a surprising one:
This pattern comes up again and again on OkCupid—the north central and west of the country is more sexually open, more sexually adventurous, and more sexually aggressive. Up the Pacific Coast you'd perhaps expect such unconventional attitudes, but for many of these red-meat states, it goes against type. Politically, OkCupid's users in, say, the Dakotas are as conservative as their reputation.
Their profile text isn't much different from anyone else's. For all other indicators, the states should not be dark, but in the data we see a mysterious sexual intensification. This unexpected pattern reveals a further power in Internet data; we can now discover communities that transcend geography, rather than reflect it.
---
Reprinted from the book DATACLYSM: Who We Are When We Think No One's Looking by Christian Rudder. Copyright © 2014 by Christian Rudder. Published by Crown, a division of Random House LLC, a Penguin Random House Company.