This week, an HIV epidemic has been officially declared in the Russian city of Yekaterinburg, where the health department estimates 1 out of every 50 residents is a carrier of the virus. The government has been hesitant to recognize that Russia is experiencing one of the world's fastest-growing HIV epidemics. In May, the head of the state AIDS center said that the country hit a tragic milestone of one million diagnosed HIV cases; it's estimated that three million people will be infected by 2020.
In Yekaterinburg, and elsewhere in the country, an estimated half of HIV infections were contracted through intravenous drug use. And yet, no one seems to be prepared to deal with heroin dependency effectively or ethically. There are few addiction treatment centers, harm-reduction services are virtually non-existent, and methadone therapy is illegal. The alternatives are very grim.
The Methadone Ban
"The public attitude is very hostile and the government doesn't want to seem too humane towards drug users," HIV activist Anya Sarang tells me. Sarang is the director of the Andrey Rylkov Foundation for Health and Social Justice, a grassroots organization for HIV and overdose prevention. It is the only group offering free needle exchanges in Moscow. 

The government's primary strategy for dealing with people struggling with addiction is "making them feel miserable," Sarang says. "As if the social pressure will make them stop using drugs."
The Rylkov Foundation receives no government funding, despite having picked up its slack on HIV and addiction advocacy for the past four years. It is also one of the few groups advocating for the legalization of methadone therapy.
According to the World Health Organization, opioid substitution therapy (OST), albeit imperfect, is still the most promising method of reducing heroin dependence. By being prescribed orally administrated medicine such as methadone or buprenorphine, patients can substitute illicit intravenous drug use with withdrawal relief in a supervised clinical setting. In developed countries, OST is recognized to counter overdoses, criminal behavior and public health risks such as HIV.
But among Russian authorities, it's a despised "narcoliberal" idea. In a country with the largest population of injection drug users, methadone therapy is illegal. Methadone distribution is punishable with up to 20 years in prison. Heroin addicts— "anti-social elements," as they're called—are expected to quit cold-turkey, perhaps in one of the jail-like "treatment" centers. 



The grassroots groups daring to advocate for harm reduction have to navigate countless government roadblocks, bureaucratic hurdles, and vicious social propaganda.

In 2010, a video appeared on the internet of a young man thrusting on a couch, as if receiving anal sex, saying, "I am a junkie; it is a disease. Why does everyone laugh at me?" A stern male voice answers off-screen: "No, my dear, you are a fag. Because all junkies are fags! But not all fags are junkies." This was a sort of a PSA, produced under the government program named "Comprehensive measures to combat the spread of drug dependency and alcoholism in Krasnoyarsk Region, 2010-12."
It was a particularly bizarrely hateful episode, but it wasn't entirely off brand. Many government officials still pitch heterosexual monogamy as the only preventative measure against sexual transmission of HIV and consider addiction to be a moral sickness. Then there's the convenient theory that both addiction and HIV are not homegrown, but the inventions and imports of the West.
The 'Un-Russian' Disease v. Monogamous Heterosexuals
Last May, the Kremlin-created Russian Institute for Strategic Research (RISI) presented a report on the HIV crisis to the Moscow City Council. It was a fountain of false science and very bad sex advice, as reported by Kommersant and summarized, in English, by Meduza.

HIV is not a Russian disease, RISI said, but a Western moral problem. It has been imported into Russia through the corruption of Russia's "conservative ideology and traditional values" in a capitalistic conspiracy by the foreign makers of condoms and sex toys.
"There's no better form of protection against sexually transmitted diseases, particularly AIDS, than the monogamous family—a heterosexual family, it must be emphasized—that rests on loyalty. And I hope they never find a better way," RISI representatives said. Which is just as well, because, according to their report, "five sexual encounters wearing a condom as a teenager are equal to one unprotected encounter," apparently.
Unsurprisingly, none of the speakers were medical experts. RISI specializes in "matters of national security" and "fighting the falsification of history," like this "HIV problem" that according to RISI, is being used in the West's "information war" on Russia. The RISI speakers seemed more interested in combating the "insensitivity towards national sensitivities," i.e. the Russian people's supposed conservative values. Though they offered no actionable solution to the HIV crisis, they did condemn the "over-focus on certain at-risk groups such as drug addicts and LGBT people."
The presentation was a joke, but even when officials presumably qualified to speak are addressing heroin dependency, year after year, a real solution is always out of reach.
Kidnappers and Foreign Agents
It was a sunny March morning when I first spoke to Sarang. That day, doctors and officials from 60 different countries gathered in Moscow to participate in the Fifth Conference on HIV/AIDS in Eastern Europe and Central Asia. She was cheerful on the phone—at least she had the moral high ground. The Rylkov Foundation and other NGOs were boycotting the event.
As expected, on the first day of the conference, Russia's Ministry of Health announced its four-year strategy focusing on ARV treatment, and again, failed to legalize methadone therapy. Instead, it criticized harm reduction therapy and promoted drug abstinence.
The director of the Federal Drug Control Service promised that the legalization of methadone—what he called "soft drugs"—would never happen. In his mind, "the army of drug users" are an "inaccessible category" of people who "don't seek to recover and avoid all contact with medical institutions and authorities in general." He wasn't a big fan of needle exchange programs either. All they do is "attract the unnecessary attention of healthy people."
Those suffering from both addiction and HIV complications face a torturous dead end. According to several reports by the Rylkov Foundation, doctors have often refused to treat HIV patients who use heroin, on the grounds that they won't be able to follow their treatment regime. In reality, HIV-positive addicts receiving opioid substitution therapy are 54% more likely to get the antiretroviral drugs they need.
The latest government strategy to combat HIV, released last month, promised to improve the country's meager accessibility to HIV treatment, but again, failed to mention harm-reduction measures.
So how do you recover? Where? The World Health Organization has repeatedly emphasized that Russia's addiction treatment options are all abstinence based. Some of the state clinics have been making respectable efforts, but it doesn't appear much has changed since a 2014 Moscow Times report which detailed just how few options are available to people with substance dependencies. According to the report, while courts can order mandatory addiction treatment, there are very few places they can send people; some government officials even proposed sending addicts to rural communes for "labor therapy."
There are religious-based recovery centers and expensive private clinics. But there is no solid rehab accreditation in place, which is why some centers have been using anti-psychotics and others have been charged with abuse and even murder. 
In 2011, The New York Times visited a popular recovery center in Yekaterinburg, set up by a local so-called "tough love" organization, City Without Drugs. The staff told NYT that they don't handcuff addicts to the beds "anymore," but bragged about their use of force. In 2012, City of Drugs was condemned by human rights group SOVA for "kidnapping" people and holding them against their will for the purpose of subjecting them to "non-medicinal" and "extreme methods of so-called treatment."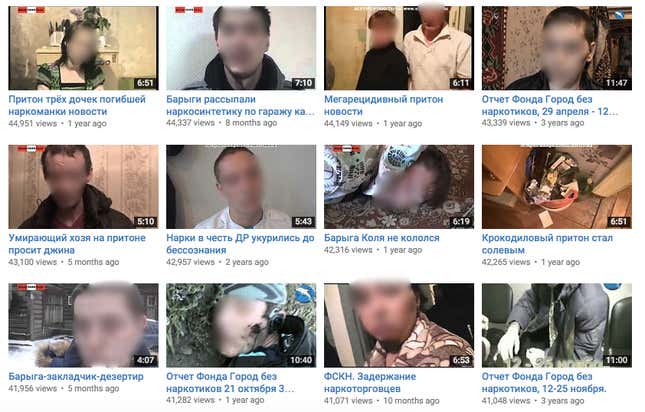 The City Without Drugs organization is still active, as is their YouTube channel. It features hundreds of videos of drug addicts being dragged half-conscious through the street, their faces not blurred, or confessing their alleged worthlessness, their hopelessness, their shame.

City Without Drugs founder, Yevgeny Roizman, was condemned by SOVA not only for inhumane treatment of his "patients," but for his racist and xenophobic statements, nearly inciting "pogrom-like" violence. He is now the mayor of Yekaterinburg. As for the city's new status as an HIV crisis zone,"there are no illusions," he recently said. "This situation is a common one in the country. We are simply working on detection and are not afraid to talk about it."
Roizman doesn't exactly inspire confidence in his future plans for combating HIV and opioid addiction, but it's hard to find a government official that does. For the groups taking matters into their own hands, the law is anything but sympathetic.
In 2012, the Russian government temporarily shut down the Rylkov Foundation website for supposedly "inciting the use of drugs" by discussing methadone treatment. This year, along with several other NGOs for HIV and human rights advocacy, the Rylkov Foundation has been blacklisted as "foreign agents." They're fighting it in court.

Since the Russian "foreign agent" law was enacted 2012, several dozen of politically involved NGOs were punished for receiving even a fraction of foreign funding. The Rylkov Foundation now faces additional pressure and intensive audits. Others have had their government access limited, their operations suspended, and their offices raided.
As of two weeks ago, Sarang says, "We're always expecting to be fined or closed down."
The Methadone 'Smuggler'
In 2011, HIV activist Irina Teplinskaya flew from Kiev, Ukraine to Kalingrad, Russia. For the twenty years prior, Teplinskaya was dealing with heroin addiction. Without access to opioid substitution treatment, she'd struggle through withdrawal, then relapse. On television, the ads kept rolling, calling people like her "animals," "deadmen," and "zombies."
Teplinskaya was being rehabilitated in Ukraine, but she flew back to Russia to advocate for methadone legalization. Russia's Federal Security officers detained her in the airport and found an unidentified pill in her bag. It was methadone. She was arrested.
Later that same year, she took her case to the European Court of Human Rights. The ECHR combined her case with similar applications from Alexey Kurmanaevsky from Kazan and Ivan Anoshkin from Togliatti. The three defendants argue that methadone prohibition amounts to torture and ill treatment. Anoshkin started injecting heroin in 1994, at age 14. Today, he is a recovering addict, HIV positive, and suffering from tuberculosis. He works for a small NGO in Togliatti called Project April.
The European Court of Human Rights is currently deciding on this case. Russia may or may not take their decision into consideration.
Since launching their case, all three have been harassed by the authorities. Teplinksaya was arrested again in 2014—for holding a can of beer on her way back from the beach, she says. According to Teplinksaya, the Prosecutor's office in Togliatti has tried repeatedly to pressure Project April into firing Anoshkin, for example by imposing fines on the organization for things like "having the wrong model of smoke detector." Kurmanayevskiy promptly lost his job as a substance addiction counselor at the Healthy Country Foundation after he applied to the ECHR.

They are the first people to bring this to court, but not the first to try.
Before them, six other Russian citizens planned to file methadone applications with the ECHR. But two died from overdose before getting through the paperwork, and one was sentenced to five years for drug-related charges.
In the case of Kurmanayevskiy, Abdyusheva, and Anoshkin vs Russia, the European Court of Human Rights must decide whether or not the opioid substitution therapy ban goes beyond the discretion of Russian authorities.
The stakes are high. In the best outcome of the case, the European Court of Human Rights rules that international laws demands that Russia decriminalizes methadone therapy. Though even this outcome could be blocked—last year, Russia's constitutional court passed a law allowing the state to ignore international human rights rulings like this one.
And yet, for HIV activists like Anya Sarang this case is still singular and crucial. There is virtually no other authoritative power advocating for methadone decriminalization.
"Everything else that can be done has been done a long time ago... all scientific materials, all research reports were printed and translated for the ministry to read." The case, she says, "is our last hope."
Emma Lantreev is a freelance writer who lives and works in Moscow.