The hard-working developers behind Raspbian OS, the custom-made Linux distro tweaked for the Pi, have announced a major update called Pixel (short for Pi Improved Xwindows Environment, Lightweight, if you're wondering). It's now the default OS offered for download by the Raspberry Pi Foundation, and here's why you should give it a try.

---
1) The interface looks fantastic
If you're a seasoned Pi Raspbian user, you'll notice the Pixel's new lick of paint straight away as soon as you boot up. A more aesthetically pleasing splash screen has replaced the technical text strings of yore. Get into the desktop interface and the refreshed look becomes even more apparent, with updated icons and better-looking window bars.
In fact "making things look nicer" is the primary goal of Pixel, which will be reassuring for beginners and those with a phobia of pixelated iconography. The menus have been tidied up to make them look a little less cluttered, and there are now easier-to-understand system icons for undervoltage (a lightning bolt) and overtemperature (a thermometer).
G/O Media may get a commission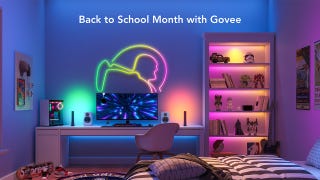 Back to School
Back to School Month with Govee Sale
---
2) It's easier to use
Want to quickly turn off wi-fi and Bluetooth and save yourself some power? It's now easier to do thanks to the menu switches in the top right corner. Another small tweak is the extension of window grab handles just outside the boundaries of the actual title bars, making it easier to snag them using the mouse cursor on higher-resolution displays.
The login screen (if you have one enabled) has been streamlined and redesigned too, with your current choice of desktop wallpaper (see below) shown behind the dialog box. What's more, improvements have been made to a number of the built-in applications on Raspbian, including Scratch (visual programming) and Note-RED (the IoT manager).
---
3) You get more apps preloaded
If you want to get up and running with your Pi as quickly as possible, you'll be pleased to know that Pixel comes preloaded with more applications than its predecessor. Programs such as RealVNC for your remote desktopping needs and a new Sense HAT emulator tool for the corresponding add-on board that adds extra features to your mini computer.
The most welcome addition is a Pi-optimized version of Chromium (the open source browser underlying Google Chrome). It's built to play video content (including YouTube) more smoothly on the Pi's limited hardware and comes with an ad-blocking extension already installed. Using the web on Pixel should be a much more pleasant experience.
---
4. There are some stunning desktop wallpapers
Continuing the theme of visual improvements are the new official backdrops arriving with the Pixel update. Okay, maybe desktop wallpapers aren't the most important part of an operating system, but they certainly don't do any harm to its look and feel. If you head to the pixel-wallpaper folder on your Pi you'll find 16 brand new images ready for use.
The images have been generously supplied by Greg Annandale, one of the developers at the Pi Foundation. From the Pi menu go to Preferences then Appearance Settings and click on the folder icon next to the current wallpaper to set a new one. You can alter the size of the system font and the characteristics of the menu bar from the same dialog box.