Roberto Orci promises the Star Trek sequel will boldly go where no previous Star Trek has gone before... maybe. The Rise of the Planet of the Apes sequel gets a new writer. Plus Seth Grahame-Smith explains how he's writing Beetlejuice 2!
Spoilers from here on out!
Top image from Game of Thrones.
Ant-Man
Edgar Wright is reportedly set to direct in September the final part of his, Simon Pegg, and Nick Frost's trilogy began by Shaun of the Dead and Hot Fuzz. However, he just issued a comment and clarification about when he might start shooting Ant-Man:
Things are happening, and other things are happening on other things as well. There's some interesting plates spinning and I ideally hope I'll be shooting this year...

So as not to jinx things, I am going to remain spectacularly vague on this. Let's just say I hope to shoot some Antman & World's End this year.
Presumably, this would mean shooting World's End fairly quickly, and then moving on to Ant-Man in December, or perhaps more likely shooting some Ant-Man test footage at some point, since there's still a lot of pre-production work (including casting) that would need to happen between now and the start of shooting. Anyway, make of all this what you will. [/Film]
---
Star Trek 2
Co-writer Roberto Orci recently posted a comment on the TrekMovie site simply stating, "No remakes. No rehashes." The obvious question is whether this rules out Benedict Cumberbatch playing Khan, as that would surely involve on some level rehashing the events of "Space Seed" and maybe a bit of Wrath of Khan. For a lot of speculation on what this simple statement might mean, check out the link. [TrekMovie]
G/O Media may get a commission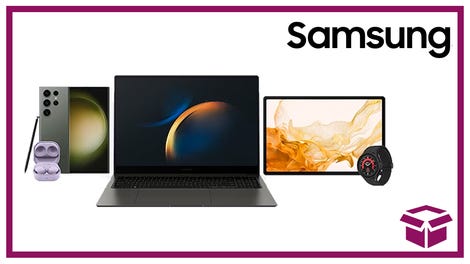 24 hour deals
Discover Samsung - Daily Deal
Here's a set photo from the last day of filming, which gives us our first look at She's Out of My League star Alice Eve. She appears to be wearing much the same jumpsuit that Zachary Quinto is wearing as Spock, albeit with the top half unzipped and hanging from the belt. [Trek Movie]
---
Rise of the Planet of the Apes
Contagion writer Scott Z. Burns has reportedly been hired to write a new draft of Rupert Wyatt's follow-up to his surprise 2011 hit. Original film writers Amanda Silver and Rick Jaffa wrote the first draft of the sequel script. [Heat Vision]
---
Under the Skin
Here's a look at Scarlett Johansson in Sexy Beast director Jonathan Glazer's new movie. Johansson plays an alien who has sex with people and kills them...but then learns the error of her way and stops. Killing people, I mean. The "having sex" thing may still be on the table. [Heat Vision]
---
Snow White and the Huntsman
Here's a a music video for Florence + The Machine's song "Breath of Life", which features a bit of new footage from the movie. [First Showing]

---
The Haunter
Here's a promo image of Little Miss Sunshine and Ender's Game star Abigail Breslin in the new movie from Splice director Vincenzo Natali. The movie stars Breslin as one of a family of ghosts who try to communicate with the new inhabitants of the house where they died mysteriously back in 1986, all in an attempt to save their successors from sharing their fate. [The Playlist]
---
Beetlejuice 2
Abraham Lincoln: Vampire Hunter writer Seth Grahame-Smith discusses writing a sequel to Tim Burton and Michael Keaton's classic:
Tim is waiting for me to come up with a Beetlejuice sequel that is going to get everybody to say, "Yes, we're doing this."

Have you written anything? I have but it's not something I'm ready to share. The original movie is very important to me, Tim, and Michael Keaton and in order for everybody to come back and not just feel like we're doing it as an exercise in vanity or as an exercise in commercialism, we need a story that makes sense and that feels like a worthy successor. That's not easy to do.
He also discusses the various challenges of writing the sequel:
First you go back and look at the original movie, listen to Danny's score again and again and you try your best to capture what was special. In that movie, though, there was a lot of accidental genius in it as well. I hope we get to do it and bring everybody back but I rather not do it then do the bad- just-because-we-can version of it.

Are you worried about diehard Beetlejuice fans?
I don't want to face the fans. I already write things that make people mad; some things are already controversial enough. I don't want to face my fellow fans and apologize for having made the bad Beetlejuice sequel. It's all very exciting but intimidating all at once. You asked for the ball, now it's yours, and what are you going to do with it? If I don't get it right, I would rather be honest and say, "Let's not do this."
---
Brave
Here's some character art for the movie's supporting characters, specifically the rival kings and their sons who are meant to compete for main character Merida's hand in marriage. [Coming Soon]
---
G.I. Joe: Retaliation
Here's a promo photo of Cobra Commander, who is not being played by the very in-demand Joseph Gordon-Levitt this time around. Instead, Faran Tahir, who had memorable turns as minor characters in Iron Man and Star Trek, is taking over the part. [Comic Book Movie]
---
Dead Shadows
Here's a subtitled trailer for the upcoming French movie that promisingly features "Lovecraft-style mutants." There's a plot synopsis below. [Wired]

"Dead Shadows tells the terrifying story of a young man, named Chris (Fabian Wolfrom), whose parents were brutally killed 11 years ago, on the same day that the Halley's comet could be seen from earth.

Tonight, a new comet is appearing and everyone in Chris's building are getting ready for a party to celebrate the event. As the night falls, Chris discovers that people are starting to act strange - and this seems to somehow be connected to the comet. They are becoming disoriented and violent and it doesn't take long before they begin to mutate into something far beyond this world.

In a fight for survival, Chris tries to escape from his building with the help of a gun taunting [sic] tenant (John Fallon) - but will they make it out alive?"
---
The Returned
Here's a poster for this zombie movie that is currently in preproduction. It features a screenplay by The Hidden Face writer Hatem Kraiche Ruiz-Zorilla and direction from Exorcismus director Manuel Carballo. There's a plot synopsis below. [Shock Till You Drop]
Kate works at the hospital in the Return Unit, helping those who have been infected by the virus that turns people into zombies. Kate's dedication to her work is absolute, but few people realize that for her it is also a personal matter; Kate's own husband, Jason, has been returned.

After various brutal and prolific attacks at the hands of Anti-Return groups and rumours that the "Protein" stock is running dangerously low, Kate fears for Jason´s safety. Suspicious of the government's order that all the returned should report to a secure medical facility 'for their own safety', the couple decides to flee, taking with them all the doses of "Return Protein" they have. At no point does the couple imagine that the real threat is a lot closer than they think.
---
Game of Thrones
Here's the official description for the second season finale, "Valar Morghulis":
As Theon (Alfie Allen) stirs his men to action, Luwin (Donald Sumpter) offers some final advice. Brienne (Gwendolyn Christie) silences Jaime; Arya (Maisie Williams) receives a gift from Jaqen (Tom Wlaschiha); Dany (Emilia Clarke) goes to a strange place; and Jon (Kit Harington) proves himself to Qhorin (Simon Armstrong).
And here's a casting call for extras in season three:
MALES:
- with short length hair of every colour
- with shoulder length hair of every colour
- all hair lengths with and without good beards
- with short blonde hair
- with long dark hair & beards
- sporty, strong & fit types
- any male amputees

We're always interested in men:
- with special skills: archery, combat-skills, martial arts, military experience, rowers & sailors
- in smaller numbers we generally require: farmers, butchers, carpenters, iron workers, blacksmiths, weavers, medieval musicians

FEMALES:
- With long natural undyed hair.

And men or women that are over 18 and that are under 5ft in height.
---
True Blood
Assuming he wasn't using a rather unusual metaphor, it sounds as though Ice T. has revealed one of the ways his former Law and Order: SVU costar Christopher Meloni kills in his new guest stint as a vampire:
Chris is going to kill on that show. Chris is a magnificent actor. I saw him the other night and he said, 'You haven't lived until you've driven a stake through someone's heart!'"
---
Grimm
Star Dave Giuntoli previews what to expect from the show in season two:
"I know Nick's going to be honing his Grimm-stincts a little bit and using his fighting skills a lot more. We're going to meet the Captain's family and we're going to learn about the world order and stuff like that."
---
666 Park Avenue
Here are some cast photos for ABC's newly ordered Sunday night supernatural series, which features Lost's Terry O'Quinn as the owner of a paranormal apartment building. [SpoilerTV]
---
Supernatural
Here's a preview for this Friday's season finale, "Survival of the Fittest." [BuddyTV]

And here's an introduction to the episode from Castiel actor Misha Collins.

---
Eureka
Here's a sneak peek at next Monday's episode, "Worst Case Scenario."

The series finale is set to air July 16...
---
Warehouse 13
...and then Warehouse 13...
---
Alphas
...and Alphas will debut their new seasons the following Monday, July 23. [TV Line]
Speaking of which, here's a list of titles and airdates for the first seven episodes of season two:
23/07 2x01 Wake-Up Call
30/07 2x02 The Quick and the Dead
06/08 2x03 Alpha Dogs
13/08 2x04 When Push Comes to Shove
20/08 2x05 Gaslight
27/08 2x06 Alphaville
10/09 2x07 Gods and Monsters
---
Teen Wolf
Here's a promo photo for season two. [SpoilerTV]
---
Additional reporting by Jennifer Griffith-Delgado and Charlie Jane Anders.