"It's always tough painting people and wondering if they can make fun of themselves or if they want to be painted with perfect proportions and flattering angles. Matt gave me two photos, one of him eating a cookie and one of him with a Popeye pipe in his mouth, so I figured the man has a top notch sense of humor."
"I chatted briefly with Pauline and it turns out she used to be a professional photo re-toucher for glamour magazines. With virtually nothing to fix with her image, I instead decided to play off of the idea of something flawless being too good to be real and made the jump to technology and robotics.
Ok, and to be honest: I also just love making up my own robot parts."
G/O Media may get a commission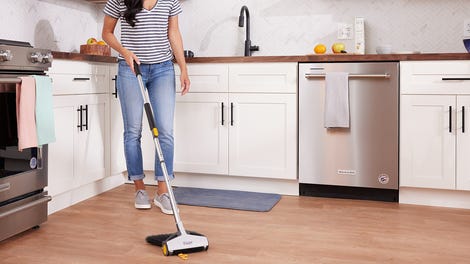 BOGO 50% Off
Flippr - BOGO 50% Off
"I saw the awesome tattoos and the great tshirt and felt that Brian's portrait needed to be handled just a bit differently than the others. Rather than going with a full on painting I decided to mix in some graphic flat design elements to accentuate the bold line work on his figure. The result has an urban vibe that feels distinct from my usual work."
"This is a flat out homage to my illustration of Adam Frucci riding a raptor into space</a. I saw the dinosaur and just felt the world could always use another rocket-propelled dino-rider sailing through the stars."
"He was dressed as The Dude. The picture was awesome way before I even tried to paint it."
"James is in the Marines and unfortunately the best image he had available to give me was a tiny and highly pixellated black and white photo of him and his fiance. Rather than treat it with loose strokes and whimsical colors I thought "If all I had was this teeny picture of me and my lady, that would suck". So I opted to try to paint his photo as realistically as possible at a larger size and fill in the lack of photo quality with my imagination.
By the way James, I un-popped your collar. You may not understand that right now, but in a couple years you'll thank me for it. "
"I'm sure David is a totally standup guy, but the photo of him in the water with the furrowed brow and hunter look in his eyes gave me severe Dexter vibes. I had to bring a bit of that darkness to it"
"The guy was in low light with a twisted face and contorted hands—he was made to turn into a werewolf. A werewolf in the traditional sense though— not that Twilight crap."
"I just loved this photo but felt it was awfully static for how music-oriented it is. Some distortion of proportions, twisting and bending of reality, and obnoxiously bright colors felt like the perfect way to treat it."
"When I see a really interesting face I don't like to detract from it. Building up from a burnt orange backdrop I pushed a bit of shadow and highlight with some splashes of color and let Ramzi's face gradually pop off the page. The rest is purely there to frame him."
"Turns out that I'm a sucker for a good couple portrait. I didn't expect it going in and seeing the photo with out-of-whack focus, a weird perspective, and muted colors, but that's the beauty of using a photo as a reference for a painting—it's just a reference."
"Though low quality, the original photo was practically made to be a painting. I didn't mess with the composition and instead focused on treating a digital painting as faithfully to an oil painting as possible with loose brush strokes and bold colors."
"With an extremely limited color palette I treated this painting as somewhat of a silhouette. Most of the light and detail would be on the other side of his face so I played with the subtleties of the darks to bring out just enough form to keep it from being flat. The man looks about as stoic and on top of the world as it gets. Simple seemed like the way to go."
"Ok, so all but one winner was random. I saw Ann's comment saying she had breast cancer and couple clicks later, I found myself on her blog butdoctorihatepink and read about her survival story. Needless to say it plucked on my cold heartstrings."
From Ann's mouth:
I'm the family photographer so there aren't many [pictures] of me. One of the reasons this contest interested me is because of the dearth of pictures of me.

I fully expect to live a long life, but breast cancer is a fickle disease and can come back any time, and when it does, the outcome is dire. Since there are so few pictures of me, a real portrait would be a nice thing for my children to have-just in case.