Joe Manganiello hints when The Batman is set to start filming. Get a new tease of Gerard Butler's new environmental disaster movie. Matt Nix's X-Men TV show finds the final member of its main cast. Plus, a Batman legend comes to Powerless, and another new clip from Beauty and the Beast. Praise Hera, the spoilers are here!

Wonder Woman
Patty Jenkins compares the movie to Richard Donner's Superman, Casablanca, and Indiana Jones:
It ended up being very Superman. For me it's Casablanca a lot. It came up a lot. And Indiana Jones. It's those three films. It's a classic film. We're making a classic film. We care about humor. We care about epic. We care about heroicism. We care about arc and story. Make it elegant. Go for it. Don't hold back. Just try for that pocket all the time. Really those three films with a kind of war hero, who Steve Trevor is. Indiana Jones or Rick from Casablanca meets Wonder Woman and I'm in.
Jenkins also confirms perhaps the most delightful news about the film yet: the iconic Wonder Woman theme song of the '70s TV series will appear in the movie in some capacity.

It's gonna show up, although it's an interesting thing. It is a great theme, but it is a very specific theme. So it's not the kind of thing you can just ladle all over a little girl, or a naive person, so it has its own journey. I see the movie as both the creation of the character and the theme. But it's not the easiest thing to just throw all over the place.
G/O Media may get a commission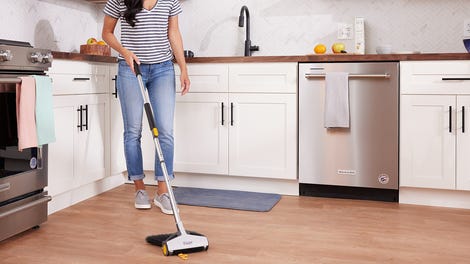 BOGO 50% Off
Flippr - BOGO 50% Off
In your satin tights/fighting for your rights/and the old red, white, and bluuuuuueee!
[/Film]
---
Dumbo
Eva Green is in talks to star in Tim Burton's Dumbo remake. According to Deadline, Green is up for "one of the three main adult roles" in the movie.
---
Underwater
Jessica Henwick and T.J. Miller have joined the cast of the sea lab disaster movie that pretty much sounds like a watery version of Armageddon. [Variety]
---
The Batman
In an interview with Robert Irvine Magazine, Joe Manganiello hinted he may begin filming in June. But if not, who cares? It'll happen at some point:
They have big plans for this movie. Whether or not we start exactly on that date or in June, whatever it is, it doesn't matter. Here's the thing: The creative process needs to be respected and no one involved in this film wants to make anything less than an unbelievable film, a legendary film. The movie will start shooting whenever those pieces are in place and we know this is gonna be something that we're proud of. What we're not gonna do is be backed into a start date, scrambling to get something off the ground just to get it off the ground.

Everyone involved wants to make this the best film possible, so that's really what it's about. It's funny how the media likes to run with, "Oh there's trouble!" "Oh, the script needs to be revised!" They're drama queens. There's a creative process, and everyone on the cast and crew wants to make this the best movie possible. So that's what we're gonna do. When we start shooting it, we'll start shooting it. It will be soon, I can say that. Here's the thing: No one wants to create that superhero movie that's polarizing to fans and critics. Rest assured, we're gonna do this thing right.
---
Ant-Man & the Wasp
The Ant-Man sequel starts production in June, under the working title,"Cherry Blue." [MC Exchange]
---
It
As /Film reports, producer Seth Grahame-Smith stated that Stephen King has seen the film and believes they did a "wonderful job" adapting his story.
King followed up on Twitter that the remake exceeded his expectations.
It doesn't tell us much, sure, but still nice to hear.
---
First Man
The Neil Armstrong biopic, starring Ryan Gosling, has been set a release date of October 12, 2018. [Coming Soon]
---
Geostorm
The whole world gets destroyed in various teasers posted to social media, ahead of a full trailer for the film coming today.
---
Beauty & the Beast
Lumiere plays matchmaker in a new clip from the film.


---
Riverdale
Good news! Riverdale has already officially been renewed for a second season at the CW. [TV Line]
---
X-Men TV Series
Coby Bell is the final actor to join the main cast. He'll play Jace Turner, "a weathered man who quietly wrestles with the moral ambiguities of a job that regularly requires cold-blooded, calculating efficiency on a day-to-day basis." [Deadline]
---
Powerless
Adam West will guest-star in an upcoming episode as Dean West, chairman of Wayne Industries—who has to visit Charm City following an attack in Gotham, necessitating some budget cuts across the vast Wayne empire. [Coming Soon]
---
Archer
Here's a synopsis for the season premiere, "Dreamland: No Good Deed."
Archer tries to find out who killed his partner, but accidentally gets in bed with Mother, a notorious L.A. crime boss.
---
Samurai Jack
Genndy Tartakovsky spoke to Coming Soon about Jack's current headspace leading into the new season.
It's soul searching rather than everything on the surface. The first series is very good or bad. Jack does the right thing all the time. I don't think we ever really dove into it deeper than that. With this, we're diving in right from the first episode. Wow, he went past those people and he didn't help them. The haunting of the past is my favorite thing. Then his dialogue with himself. His turmoil is his fun because we never really got to get it to this level.
---
Teen Wolf
Meagan Tandy will not be returning for the show's final episodes.
---
Arrow
Stephen Amell posted a set pic wearing what appears to be his costume from season four—which is basically his costume as it is right now, sans sleeves. Another costume tweak or maybe even a flashback moment?
---
iZombie
A synopsis—and a few pictures—have been released for the season three premiere, "Heaven Just Got a Little Bit Smoother."
YOUR FAVORITE ZOM-COM-ROM-DRAM IS BACK FOR SEASON 3 — Liv (Rose McIver) has discovered there are more zombies living in Seattle than she previously believed. In fact, there's a private military contractor employing a small zombie army, and that army is preparing for the day humans learn of their existence. Major (Robert Buckley) was exonerated for the crimes of the Chaos Killer, but is still considered a pariah. He manages to land a job with the one and only place that will hire him. Meanwhile, Blaine (David Anders) is accused of lying. Malcolm Goodwin and Rahul Kohli also star.
There are more pictures at the link. [Ksite TV]
---
Supergirl
Finally, the King and Queen of Daxam (Kevin Sorbo and Teri Hatcher, respectively) arrive in a new teaser for next week's episode, "Star-Crossed."


---
Additional reporting by Gordon Jackson. Banner art by Jim Cooke.