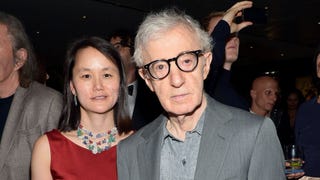 Now that Amazon's managed to churn out some non-terrible original content of its own with Transparent, it's looking to make a quality half-hour comedy. And apparently, Woody Allen's going to be the one to make that happen with his first television series ever.
Of course, Allen won't have to play the awful pilot game—his so-far unnamed series has been ordered for a full season. And while this is his first time writing and directing series, he isn't wholly without TV experience. Allen got his start in the 50s writing scripts for the likes of Ed Sullivan and Sid Caesar.
For their part, Amazon sounds thrilled to have the controversial director on board. Allen, of course, appears less so, saying:
I don't know how I got into this. I have no ideas and I'm not sure where to begin. My guess is that Roy Price will regret this.
In other words, it's off to a better start than most of Amazon's pilots. [Amazon]
Image via AP