Man, being pregnant while filming an action movie must suck almost as much as being Joker Leto. Justice League star and resident savior of the DCEU Gal Gadot is a real-life warrior, having endured a slough of filming while in the family way. And yes, her story includes a vomit bucket.

During an appearance on Live with Kelly and Ryan, Gadot chatted about being pregnant for the last three months of the shoot (likely including the reshoots that went into her fifth month of pregnancy). While Henry Cavill forced the VFX department to digitally remove his mustache, possibly because of contractual obligation, Gadot kept her pregnancy a secret from the cast and crew, suffering in silence with migraines and other symptoms because she's awesome.
"I felt so sick, and I didn't say anything to anyone. And I thought no one knew, but everyone knew apparently," Gadot said. "I started to come to set with sunglasses, because it's all green screen and bright lights and hectic."
The craziest part was how Gadot handled her morning sickness, having to run to the restroom in her trailer after every take to barf her guts out. And in the event that she didn't make it in time, her assistant was nearby with a vomit bucket that they put stuff in to make it look like she wasn't actually in need of a vomit bucket. And, of course, in times of crisis... the assistant would burst into song.
Every cut I had to go and run and vomit somewhere. So I had an assistant with a bucket. And she was to put other stuff in the bucket so people think, instead of a bag she had a bucket. It made sense overall... Once I was so loud and I didn't make it to the restroom in the trailer, so I was vomiting and it was so loud, I'm so sorry it was so disgusting, she went "ah ah ah" so no one would hear what was happening.
G/O Media may get a commission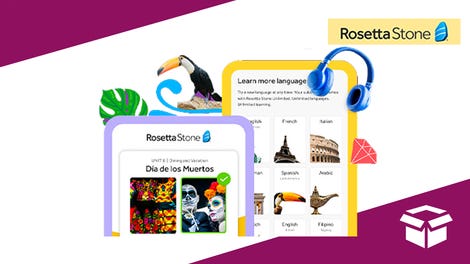 Extra 20% off
Rosetta Stone Lifetime Subscription - All Languages
But hey, at least she didn't have to try and regrow a mustache. Justice League hits theaters Thursday night.
[via CinemaBlend]