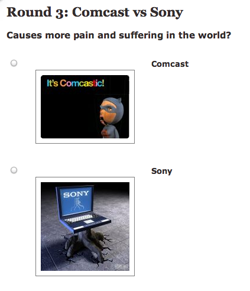 Consumerist has its annual Worst Company in America contest going on now, and today's round of voting has a special place in hearts of Gizmodo readers.
They're trying to decide which one of the two—Comcast or Sony—advances to the next round. Although they both provide services/products we want and need, they've really screwed with its customers on more than a few occasions.
Head over to Consumerist now and let them know which company you hate more.
Round 3: Comcast vs Sony [Consumerist]