When we asked how smart TV would change your lives, we weren't sure what you'd come up with. The best argument we thought of is that a smart TV would facilitate tweeting in horror while cringing at Sarah Palin's Alaska. Turns out a few of you are more than deserving of a life change. Read the heartbreaking stories below, then vote!
Entry 1, from Jason G.:
When I was 15 years old I was paralyzed in a pool accident. It has been 15 years since and to be honest I wouldn't change a thing. People think I'm crazy when I say that but what I've gained has far outweighed the hardships lack of mobility brings. Sure it would be great to walk again but the changed perspective on life is priceless. Being able to see the value in so many little things most take for granted has truly been a gift. It's been a long hard struggle and a lot of work to become as "normal" as possible. Having a smart tv would make life much easier for me on many fronts, mostly just having easier access to the outside world around me. The many improvements in technology are great for someone like me. It helps so much to escape the limitations of my life and explore, travel and experience the world even though I can't physically. My dream is to reach out to other paralyzed individuals to help them overcome and realize that they still have enormous potential in this world. I believe a tool like this would help me help others.
Entry 2, from Rodney G.:
The answer to how the smart tv would change my life is simple: It would put a little more fun back into my life. Up until a few months ago I had the 1080p flat-screen, I had the PS3, I had a laptop and a PSP. Then my wife and I received a call informing us that there had been an accident in the family. Long story short, our family suddenly grew by three members. A thirteen year old boy and two sixteen year old girls. Now I must admit that I was very spoiled growing up and never had to do without. But my new "children" had never had anything other than the necessities. So I did what any good-hearted person would do. I gave my PSP to the thirteen year old and my laptop to the girls (for school). I also sold my tv (needed the money) and moved the PS3 into the living room. Do I regret my decision? Not a bit. But I no longer have any toys for myself. I need some technological fun back in my life. Please, help me! Please
Entry 3, from Lee S.:
I am a long time Gizmodo reader and just like the majority of readers, I am a nerd. I love technology. Currently, I am a junior studying International Business at the University at Buffalo. For my first 2 years of college, I lived in the dorms. There was no HD cable and the internet was so slow my Roku box couldn't even play an episode of The Office without stopping a dozen times. So, this year I decided I was going to live in my own house. In the midst of shopping on CraigsList, my freshman year roommate told me he had signed a lease with 2 of his friends but he wasn't going to return to college. The rent was only $200 a month so I jumped at the offer. I move in 2 weeks later to find myself living in an apartment without a single smoke detector, soot above electrical outlets (indicating an electrical fire), and my room was about as big as a closet. But that was to be expected. I had no problems with it. Instead of cleaning and harassing my landlord for smoke detectors I called Time Warner Cable and got them to come next-day to install my cable and internet. It was so exciting!

After the installation was all said and done I had a 40" LCD hooked up to a TiVo Series3, Roku, HD Cable (with Showtime and HBO), an Onkyo receiver with a pair of Sony bookshelf receivers, Xbox 360, and of course my MacBook Pro with an HDMI connect. Not bad for a broke college student, right? My Roku streamed nicely in HD, Dexter never looked better on my TV, and I was so happy to finally have my own set-up.

Three weeks into the semester I'm at my girlfriends house when I get a call from one of my roommates that all my stuff is gone. I jump in my car and race back to my place (committing more than a couple traffic violations in the process). When I get there my roommate is standing in my living room staring at where all my stuff used to be. He claims that he just got back from class and had no idea what happened. Both locks on the front door were still locked when he got home and there were no windows broken. I was bewildered as to where all my stuff went.

Later that night, I got a phone call from my roommate again. He was at a frat party where my freshman year roommate was a brother. Even though he was now a college dropout he returned to Buffalo to party for rush week. Although he was drunk he managed to tell me that my ex-roommate was bragging about stealing all my stuff. It all made perfect sense; no locks or windows were broken because he still had a set of keys. So, I call him. He swears up and down that he has nothing to do with this. I was in shock. My own roommate just robbed me. I told him I wanted to handle this nicely without the police. He continues to curse and threaten to kill me if I go to the police. So, I call the cops. They come to my house and look around. They basically told me that without evidence there was nothing they could do. I told them that I know who did it and gave them the address of where he was staying. I requested that they go and question him. They agreed. By the time they arrived my roommate was long gone. The police called me and said that there was nothing else to do. Basically, I was screwed.

A Logitech Revue with Google TV would change my life. I managed to replace my TV so far but have nothing else. Every time I go and watch TV I am reminded how one of my closest friends and someone I lived with for 2 years would flat out rob me. It's depressing. It's hard to trust people anymore. I have my TV chained to the stand and installed a dummy security camera at my front door. I believe that a Google TV would help me forget the pain of losing all my equipment that I had spent years collecting. A Google TV would combine a bunch of the boxes I used to have. Furthermore, being awarded a Google TV may help restore my faith in human decency.
G/O Media may get a commission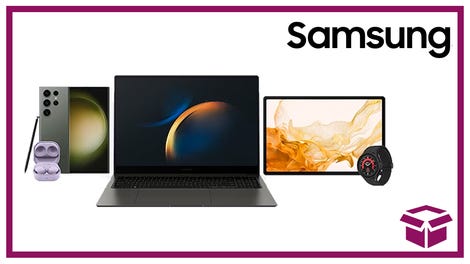 24 hour deals
Discover Samsung - Daily Deal
Now go on—change one person's life by voting below for the most convincing, articulate and heartstring-tugging story. The winner will receive a Logitech Revue with Google TV and keyboard controller.
Standard contest rules apply. Only open to US residents. Readers may also enter by sending their story along with their contact information to Gawker Media, Attn: Gizmodo smart TV Contest, 210 Elizabeth Street, Fourth Floor, New York NY 10012. The contest begins on November 15 at 11:59am EST and ends on December 6 at 11:59pm EST.

To learn more about smart TV products equipped with the Intel® Atom™ processor, click here!