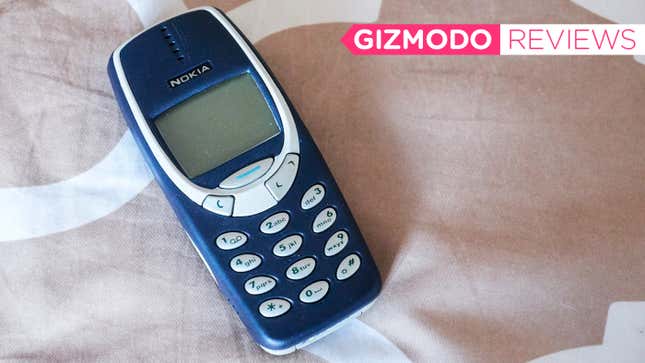 There are three things in life that I love: Sex toys, technology, and repurposing stuff in my home so that I can someday achieve my goal of breaking Etsy and/or Pinterest with my doubtlessly charming Brooklyn-based craft projects.
Vizio's Latest TVs Go All Quantum
That, my friends, is exactly why I decided to throw caution to the wind and stick my old Nokia 3310 into my vagina. In the interest of full disclosure, it wasn't actually "my" old Nokia 3310, but one the fine folks at Gizmodo were kind enough to provide me when I came to them with a story in need of investigation: Women all over the globe swear by the Nokia 3310 as a vibrator.
The rumor recently resurfaced after Agents of Ishq, a sex positive site in India, surveyed 100 women and found many claimed their old Nokia was the best tool for the job.
Back in 2003, one software developer even made an app for the Nokia after he reportedly witness a woman use his phone in a pub. At the time he told Wired, "It's the only confirmed use I know of. She had a very pleasant time."
In an effort to report this story out I even spoke to a man (who prefers to remain anonymous) who spent a portion of high school years trying to use his flip phone as a Fleshlight with less than ideal results. But most of the admissions of phone sex occur on the internet where you'll find plenty of claims of people trying to use their phone to get off, but I was skeptical, because, you know, a Nokia is a phone. It's a fine brick, for what it is. You can play Snake on it—also, according to the box it came in, it has "32-polyphonic ringing tones built-in." I did not sample any of these tones, but I did decide to find out, once if for all, if a person can get off with one.
For foreplay, I unpackaged the phone and was pleased to see that it had a large dust resistant keypad. I don't think my vagina had any dust in it, let alone large dust, but it's good to know that the Nokia 3310 was thinking ahead of its time when it comes to grime-protecting these suckers.
The phone isn't waterproof and while I had no plans to take it into the tub with me, I did allow myself some anxiety over what would happen if the phone electrocuted me during the act. However, because I am a plucky sex writer, I continued. "If my mom is going to get a phone call about my sex-toy induced death, let me live my life to its fullest," I muttered, splaying my legs like I was at the gyno's office and making sure I had the phone at its maximum vibration setting.

While the Nokia 3310 might be designed to comfortable when held to the ear, turns out that the ear is shaped a whole lot differently than the vagina. Unless your vaginal opening is shaped like a thin, perfect rectangle, inserting the phone is not viable. Consider the Nokia only if clitorial stimulation is your jam. It took me a while to figure out a way to grasp the phone and angle it in a way that felt anything other like I was, you know, dry humping a literal cellphone.
The other thing that took some time was figuring out how to keep the phone vibrating long enough to make my bits even tickle. After about thirty minutes of what felt like playing Find My Phone only with my clitoris, I realized that if you go to your settings and scroll through your options for different vibration patterns, the phone will continue to vibrate in each pattern selected as a kind of preview. It will keep doing that until you press green for go. And go I did.

The position I settled on meant that the dimly lit screen illuminated my nethers prompting my cat to attack my crotch thinking I had been beset upon by some sort of alien hummingbird bent on sexual deviance. Once I kicked the cat out of the room, I got a handle on things and discovered that while ergonomics aren't its favor, the vibration was indeed powerful enough, with enough varieties of vibratory patterns to make orgasm possible. The only downside? Now I can't look the damn thing in the eye.
The Nokia's size, long-lasting battery and the fact that it is by design unidentifiable as a vibrator makes it appealing to the beginning masturbator. If you're nervous or skittish about going out to a sex shop or overwhelmed by the offerings of Jeff Bezos, then turning to an old phone found an eBay might help you achieve your masturbatory dreams.

Yet if you are in the market for a simple, small, discreet vibrator with long-lasting battery power, you don't need to troll the web for a Nokia 3310. A simple bullet vibe or the Iroha Mini by Tenga will get you off without maybe your labia accidentally calling your Aunt Karen (you'll need to be on T-Mobile as it's the only 2G network still working in the US). It's got one low profile on-off button and a battery life of 5 hours powered by a single AAA, but it does lack the sure multitude of vibration pattern options. Still the Iroha Mini is affordable, cute, and you can take it in the bathtub without having to imagine a bunch of firefighters discussing why on earth you decided to hump your Nokia while letting Calgon take you away.
README
It doesn't look like a vibrator.
Because it is not a vibrator. It is a phone.
Buzzes nicely, but hard to charge.
Also it is a phone.