There are a million reasons to want to stay in bed every morning, not the least of which being stepping into a cold shower that isn't as warm as you thought it would be. BRRRR! But with the new U by Moen shower, you can use your smartphone to start and pre-heat the water so that it's guaranteed to be the perfect temperature when you hose off in the morning.
Convincing consumers why they need a smart home upgrade has been an uphill battle for many companies. But while the idea of a smart shower that sends you notifications when it's pre-warmed does sound a little opulent, Moen has also incorporated other useful features into the U so it doesn't feel like your spending a lot of money on a bathroom upgrade just because you're lazy.
Using either the free accompanying smartphone app or a wall-mounted control panel with a five-inch LCD display, users can select one of twelve different shower presets so that everyone, even in a large household, can quickly access their preferred water temperatures and shower head configurations. Fiddling with knobs until the water is at the perfect temperature is a waste of valuable time in the morning that could have been used for more sleeping.
G/O Media may get a commission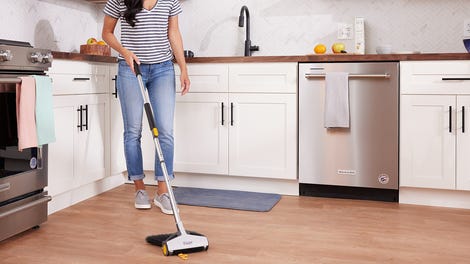 BOGO 50% Off
Flippr - BOGO 50% Off
The U's water-controlling valves allow for precise temperature targets of anywhere between 60 to 120 degrees Fahrenheit, and the shower uses easy-to-understand color cues on the controller's display to indicate when the water is warming up, cooling down, or at the perfect temperature. The system can also automatically pause the flow of water once it's hit the ideal temperature, so as not to waste hot water if you haven't already climbed into the shower.
The U by Moen also features timer functionality to limit how long someone can linger in the shower, which is also a useful function for larger households where everyone is trying to get out the door on time in the morning.
Pricing details for the U haven't been revealed just yet, but you can safely assume it's going to be cost you a lot, as it will require more than just screwing on a new shower head. You'll definitely need to hire a contractor for this installation. And while Moen doesn't go into details about privacy and security, we're going to assume the smartphone app can't be used to remotely trigger cold water shower pranks—but we can always hope that hijinks are possible.
Update, 4:39 p.m. EST/EDT: Moen has provided pricing details for the U. A two-outlet version will sell for $1,160, while a four-outlet option is $2,200, but neither include showerheads, fixtures, or installation.
[Moen]
---