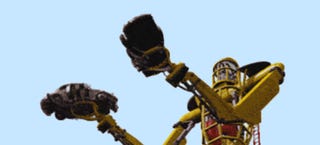 If you watched charming 1999 animated movie The Iron Giant and thought, "Man, I wish that robot was real, and also could juggle Volkswagen Bugs," then do I have the Kickstarter campaign for you.
Dan Granett is an inventor with a dream of building a 70-foot robot capable of juggling vehicles. He calls it the BugJuggler, and he's asking for funding to build a human-scale juggling arm as proof of principle. The arm he plans to build will juggle over 250 pounds, which is pretty cool on its own.
Backers who pay over $5,000 will be invited to Granett's Berkeley.-based lab to test the juggling arm and use it to shoot hoops with a 235 lb. cannonball.
Image via Kickstarter