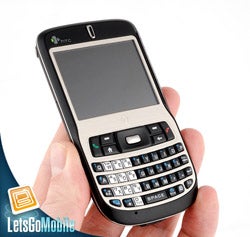 Fans of the T-Mobile Dash will be right at home with the HTC Excalibur, which sports near identical facade. Heck, it even still has Windows Mobile 5 instead of the newly arrived Windows Mobile 6.
So what's been improved? Well, the touch-sensitive scroll keys on the right have gotten "return" and "mute" keys added, which makes this even more touchy than the Dash.
The camera is still a 1.3-megapixel affair, with slow image processing and slow saving, but improves on the Dash by offering 3 to 5 quick shots in "sport" mode.
On the whole, Lets Go Mobile liked the Excalibur as a smartphone, but there hasn't been enough of an increase in features or functionality that we can recommend this over the cheaper Dash. If you haven't already owned the Dash, then The Excalibur could be a nice jump into the Windows Mobile smartphone space. But at this point, with Windows Mobile 6 looming, we'd recommend waiting and getting a phone with the new OS built-in. – Jason Chen
HTC Excalibur S620 Review [Lets Go Mobile]