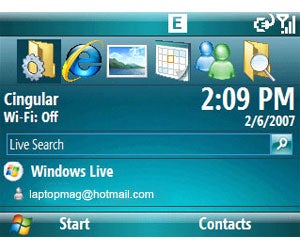 So now that Windows Mobile 6 is out in the wild, everyone's main question is should I upgrade? From the looks of it, yes you should. Not only does it look better and offer more features than WM5, but it finally puts an end to those random smartphone crashes. The folks at Laptop mag put the new OS through a week-long test run and here's what they liked.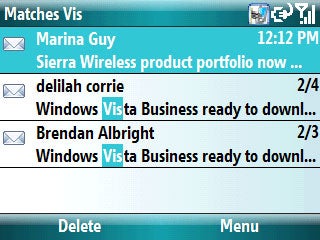 1)It looks like Vista

Gone is that intimidating Today Screen from before and in is the new Vista-inspired Today Screen with bigger icons, larger fonts, and a less intimidating look.
2)You Can Finally View Office Files

WM6 comes with Office Mobile, which lets you view Word, Excel, and PowerPoint files straight from your handheld. You can't create Office files on the Standard Edition (although there are a few ways around that), but having the ability to view these files without a 3rd party app is huge.
3)Cool Search Function

Let's say you're searching through your Inbox and you need to find an old e-mail. Just type in the sender's name, the e-mail's title, or any key word that comes to mind and WM6 will display all your messages that match your search.
4)Faster Web Browsing

Ok, so you won't fly through Web pages, but WM6 does up the speed on Internet Explorer Mobile. Laptop clocked 16 seconds for the NYT homepage to load and 18 seconds before CNN's front page showed up.
Granted, not everything is perfect with WM6 (Laptop didn't like Explorer's weak multimedia support or Windows Live for Windows Mobile), but for the most part it will improve your smartphone experience.



Windows Mobile 6 Review [Laptop]