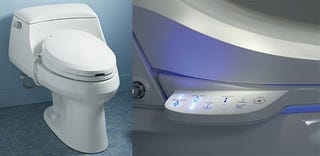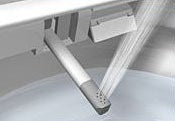 Who says the Japanese make all the fancy potties? Kohler has jumped into wash-yer-butt bidet derby with its C3 series toilet seats, using a special "hydra-cleansing wand" (pictured at right) to give you a hands-free alternative to toilet paper.
Click to viewThe C3-200 model ($1300, pictured on the toilet above left) has an in-line heater that warms up that water so your ass-cleaning experience will be more soothing than shocking. It even has a remote control to initiate the whole cleaning and drying process. There's also the model C3-100 ($750, pictured above right) that contains a small tank that heats up the cleansing water, and its controls are located on the side of the seat.
Check out the details, plus more pics: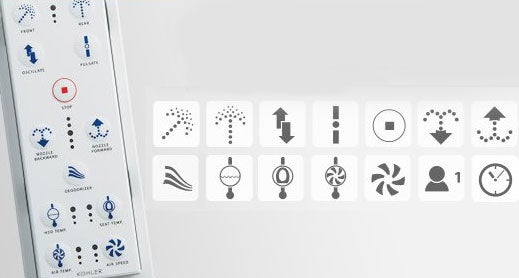 These swank toilet seats let you adjust the temperature and pressure of that cleaning spray, and there's also a cool blue light that helps with that nighttime urinary aiming problem. Also a nice touch is the way these heated seats quietly lower as if riding on a cushion of air.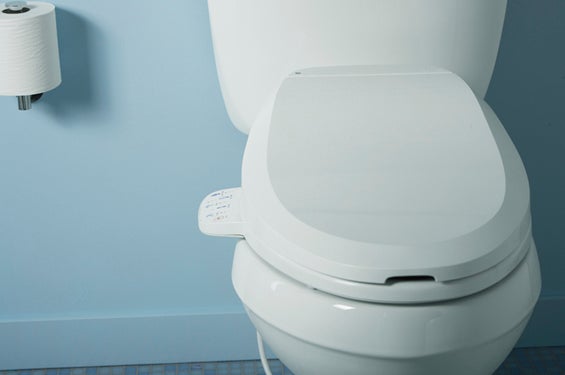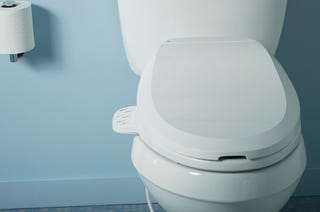 Both models offer the ability to select front and rear wash, and you can even make the hydra-cleansing wand pulsate that water on those oh-so-sensitive body parts. That could get interesting rather quickly. The higher-end C3-200 also offers a deodorizing fan, and warm air drying with adjustable temperature and fan speed.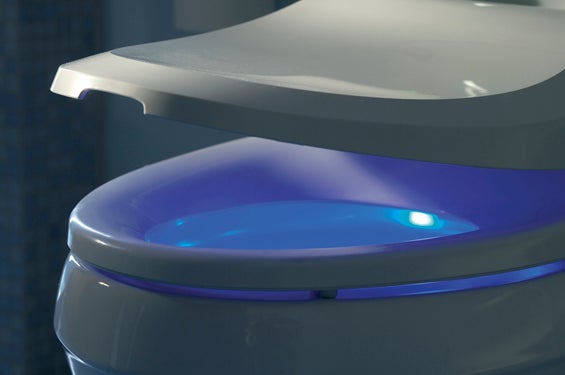 This bidet functionality in toilet seats has been popularized by Toto with its $5K+ NeoRest toilet and so-called "washlet" technology, and Toto also offers various luxo-sport toilet seats with those cool washlet features as well. But now you can get an American-made squirting seat. As with all thrones like this, there's slight problem, though: you'll have to wire an electrical outlet nearby for these babies, but that's the price of progress. – Charlie White
Product Page [Kohler Company]