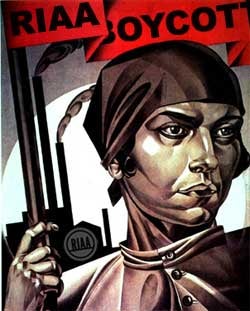 Reader Rob writes in, and he makes some interesting points:
For starters, the RIAA is incredibly stupid, but they are not evil. Like it or not, they actually do represent and help to pay the salaries of the artists whose music you wish to "share."

Should they be suing teenagers in Poughkeepsie? Of course not. Should they be pushing DRM down our throats? No. But what you fail to grasp is that they are doing these things because they are short-sighted, small-minded,
incredibly ignorant bureaucrats who truly believe they are protecting the interests of artists and the people who pay them. They are not evil. They are not fascists. They are just profoundly stupid.

Instead of demonizing them for doing the only thing they know how to do, why don't you come up with a better way? You guys understand the future of tech and what it means for music and movies better than most anyone, so why don't you stop throwing rocks at the dinosaurs and start solving the problem.
A poll and my response, after the jump.
Now, I realize that these guys aren't evil incarnate and we just share differing beliefs, but I don't think I've demonized them personally too much (well, maybe a little bit yesterday). This is clearly an ideological debate, and we're just trying to get people talking about it so progress can be made.