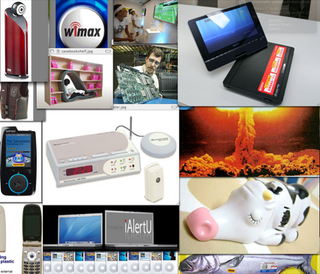 Gutted N95—Want to see what makes Nokia's latest phone tick?
Apple TV RSS—Pick up this hack and you'll be able to check out Gizmodo using your Apple TV.

iPod SMASH—The iPod juggernaut has smashed its way into the 100 million seller club.
SanDisk+Yahoo= Connect—We told you about this Wi-Fi enabled player way back when, but now it's shipping.
Music Industry Has a Crush on WiMAX—And why shouldn't it? It appears as though EMI and the other major labels are getting ready for their WiMAX push.
5 more after the jump.

Pictures of MacBook Thieves—Two idiots steal a MacBook and hilarity ensues, but then we find out it might be a HOAX. Don't worry, we'll get to the bottom of this one gumshoe.
360 QWETY Add-On in the Flesh—Renders are one thing, but photographs with real hands. Now that's what I'm talking about
Two-Way Radio Life Vest—Do you like to chat and are prone to drowning?

Sony DVP-FX850—Despite its clunky name, this portable DVD player is pretty slick. Featuring a swiveling screen and a USB media.

Cell Chip Saves the World—It's already working on Alzheimer's, now the Mayo Clinic has announced that they will use their medical imaging software.– Ben Longo