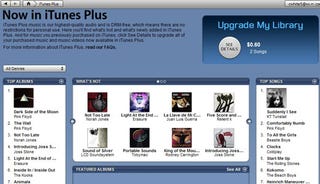 Click to viewToday is a big day for music downloaders, because iTunes is finally offering DRM-free music for your listening pleasure. To sweeten the deal, each also has a lighter AAC compression applied to it, 256kbps instead of iTunes' customary 128kbps.
Called iTunes Plus, it's available now, and all it asks is an extra 30 cents per song ($1.29 for each instead of $.99 for iTunes songs). Is there a big difference in sound quality between those 128kbps iTunes files and these 256kbps iTunes Plus songs? Let's dig into iTunes Plus, grab a few files and compare them to the old-style locked-up tunes.

To access the iTunes Plus songs, a limited selection with only EMI artists thus far, first you must upgrade your iTiunes software to version 7.2.0.34. Then, you simply tell iTunes you'd like for it to offer you iTunes Plus songs whenever they're available.
Then it offers (for thirty cents each) to convert any 128kbps tunes you already have into iTunes Plus files, if they are available that way. This was easier said than done. Our collection here only had five songs that qualified. We're still not sure why, but we got an error message on four of the five songs. Could it be that we had already stripped the DRM from those songs? Could be, could be.
We downloaded two more iTunes songs to see what would happen, and the same thing occurred. Errors (see graphic below). Throughout the day, we experienced numerous timeouts with the new iTunes Plus store, a situation we're thinking (hoping) is because of the intense interest in unchaining libraries of music held captive for the past few years. By the way, don't get too eager to spread those songs around, because there's still user info embedded in each "DRM free" file you download.