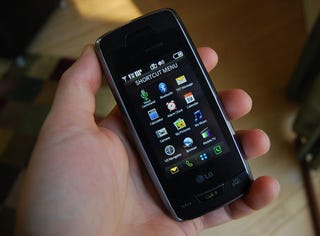 Like many people who live in Verizon country, I have eagerly awaited the carrier's latest—and definitely greatest—feature phone, the LG VX10000 Voyager. Yesterday UPS dropped it off, and I've been playing with it constantly ever since. It is a powerful thing, ambitious in that it combines much of what we like about both the iPhone and the BlackBerry into a single compact system. But it has flaws that make it hard for me to give the highest marks, especially with an after-rebate price tag of $300.
Because it's not truly a "smartphone" but rather one of the most overblown feature phones to date, I will review each feature in its arsenal:
Touchscreen:
The Voyager's touchscreen isn't as responsive as the iPhone's, though it is a lot nicer than the TouchFLO experience on the HTC Touch (Sprint's, at least). The biggest innovation is force-feedback: when your finger lands in the right place, you get a bit of a vibration. Immersion's haptic technology is behind this, so it's got momentum, but still a ways from being useful in a blind-typing situation.
The touchscreen's fatal flaw—the dealbreaker—is that it can't be used to scroll through Verizon's own menus. The screen will show a slide-bar on the right side when there are more menu items to scroll down to, but it's next to impossible to grab the bar and scroll. On the rare occasions that I was able to move the slide-bar, I didn't have real control over it. Others that I showed the phone to have had the same problems. And yes, Virginia, I did calibrate the touchscreen. Three times. (I don't know who Virginia is either.)
UPDATE: I want to thank commenter Pikes for suggesting the counterintuitive scrolling technique. "Have you tried pulling the menu UP instead of using the scroll bar?" While it doesn't propel the phone directly into iPhone territory, it certainly does alleviate some of the annoyance I encountered during my testing.
E-Mail:
As many who saw our Sizemodo yesterday pointed out, the Voyager is slightly chunkier than the iPhone because it also opens up into a screen-and-keyboard config, like the enV before it. Typing isn't so bad; it beats the Voyager's blatant iPhone-style touchscreen typing, though even that isn't too bad. It's nice to have a choice.