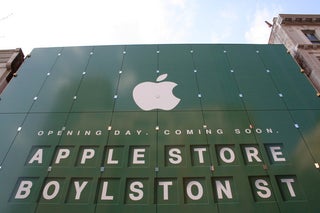 S
Later this month, Apple is opening its latest flagship store on Boylston Street in Boston. The store's main claim to fame? It's huge. We're talking largest Apple Store in the world country, by square footage. The store, in the city's historic Back Bay district, looks like a four-story glass cube. It's the first store inside Boston proper and the first with (finally) easy subway access. According to a store employee, it's a good thing Boylston Street is so big: Apple estimates 1,500-2000 customers/hour will visit — more than 10 times the 160/hour that the average store gets. It's something else inferiority-complex ravaged Bostonians can hold over New York. UPDATE May 13 2008: An Apple spokesperson has confirmed this is the largest store in the United States, besting the Fifth Avenue store in New York, but still smaller than Regent Street in London.
(Photos by Jordan Golson)
Sorry, I'm not so sure this is even close to the biggest. I am stupid. Some other sites have questioned this claim. Apple has never been forthcoming with information on upcoming stores, so we have to work this one out on our own.
The Boston Globe claimed back in 2007 that the store would be 21,350 square feet. The current largest location, the Regent Street store in London, has somewhere around 28,000 square feet of space.
ifoAppleStore says "...the [Boylston Street] lot is only 6,384 square-feet, so the store would have to be at least five stories to be larger than Regent Street (London), at 28,000 s.f."
The store is at least four stories above ground, (if you include the half-length fourth story that is hidden from street view) and likely has a floor or two of basement for stock-keeping purposes. This easily puts the store in the 26-32,000 sq ft range needed to beat Regent Street. There also may be discrepancies here between "sales space" and "back-of-house" space and what the employee meant by "largest in the world."
Apple hasn't gotten back to repeated requests for confirmation. Tag this one "plausible."