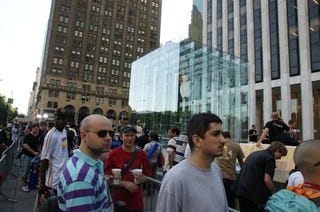 The line outside of the Apple store on 59th street in NYC is definitely an event. There are about 100 people wrapped around the block, patiently waiting for the iPhone 3G. We'll be up all night checking out the scene and talking to the diehards who can't wait to get their hands on the new phone. We've got games, blankets, and provisions (liquid and food), so if you're in town, stop by and say "Hi". Otherwise, keep checking back to see all of the madness going on—you never know what could happen. Update: Greg Packer showed up!
1:06 AM - One opportunistic young gentleman named Henry is selling his 7th place spot in line ... for a cool $150.
1:10 AM - People are dropping like flies. A couple just left when they found out they'd have to sign up for contracts.
1:35 - Surprisingly, there aren't many people who waited here for a phone last year. However, I did find Matt, who waited last year in Richmond, VA. He's in town on business but got so caught up when he walked by the line he decided to hop in. He conveniently broke his original iPhone last week in a "Brazilian party accident", and he's pretty excited to get a new one.
1:58 - I asked some people what apps they were most excited about, and I got the same answer over and over: Super Monkey Ball. Other than that, people are looking forward to Remote, AIM, Facebook, and Whrrl.