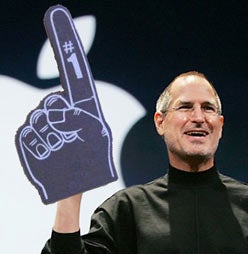 You wouldn't know there's a recession by Apple's earnings report from this past quarter: Revenues were over $10 billion for the first time ever and they sold the most iPods ever. Updated.
Update: From the Q&A:
Tim Cook on iPhone competition: "We like competition as long as they don't off our IP. And we're going to go after anybody that does." Q: Is that about Palm? A: "I'm making a general statement...We will not stand for having our IP ripped off" and will use any "weapons at our disposal."
"How's Steve?...How will you run the company?...Tim will you be the likely candidate?"
Answer from Peter Oppenheimer, CFO: "Steve is the CEO of Apple."
Apple COO Tim Cook who's running the day-to-day show while Steve is away, in his southern drawl: "The values of our company are extremely well entrenched. We belive we're on the face of the earth to make great products... We believe in the simple, not the complex...Frankly, we don't settle for anything less than excellence." In other words, Steve's vision lives on. "Those values are so embedded in this company that Apple will do extremely well."