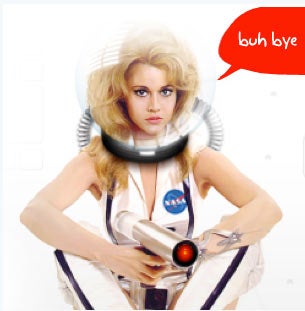 Well, last week's space theme was exciting for readers and staff alike, not least of all because we had a real actual NASA astronaut baring his soul daily. Here are the highlights:
• 15-year veteran NASA astronaut Leroy Chiao's column about flying in the Space Shuttle and Soyuz, and living on the International Space Station for six months. The little things matter most, and Leroy described the minutiae of zero-g daily life in a way that was both charming and shocking at once. Here are all of his Astroblogger entries.
• In Carmel Hagen's thrilling heist story about a guy and a girl and a locked-up pile of moon rocks, we learned how an intern stole NASA's most treasured possession.