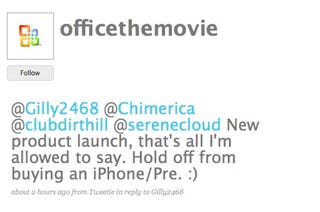 The blogs are buzzing over some tweets from a Twitter account allegedly run by the Office 2010 team, noting what looks like the outright announcement of a Zune phone. Something doesn't feel right. Updated
First, the tweets:
June 2009 will be an important month for Zune lovers.
Naturally, this got some other Twitterers a little excited. The followup:
New product launch, that's all I'm allowed to say. Hold off from buying an iPhone/Pre. :)
Well, that's a pretty clear statement: Don't buy any of these popular phones, because we're releasing a product soon. Wow?
Granting that this is a Microsoft-run Twitter and that the announcement is well-informed, here's what it would mean: Microsoft could be offering up a combination of a Zune phone reference design and combination Windows Mobile/Zune software to device manufacturers, come June. But until these errant Tweets are addressed by someone who we know can speak authoritatively for MS (not some low-level marketing minion), this is about as convincing as any of the other countless Zunephone/Pink "reports" we've heard to date—that is to say, mildly.