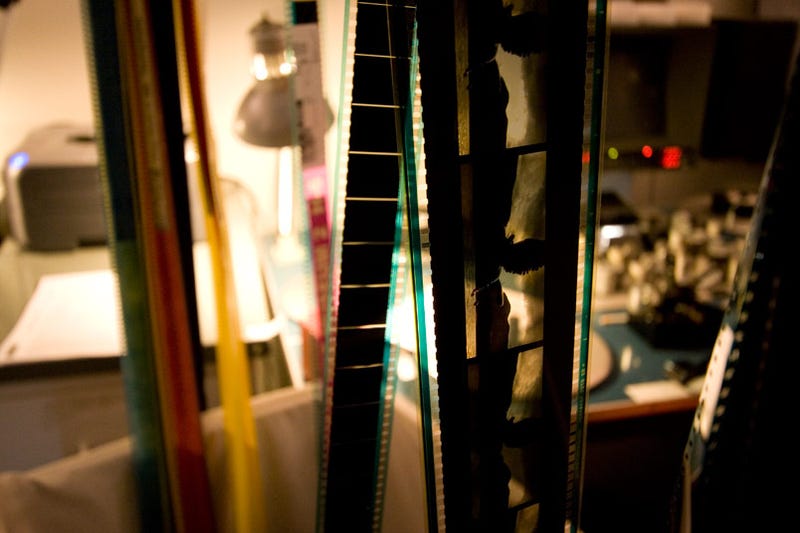 Pretty as it is, 70mm film has been deemed too expensive for shooting Hollywood productions. So this is how IMAX preps finished movies for the up close and personal demands of IMAX.
(Left, 35mm reel. Right, IMAX reel.)
Before we move on, let's explain IMAX film. Technically, it's a 70mm standard that—unlike the 70mm that was popular back in the day with big movies like Lawrence of Arabia —has been turned sideways on the celluloid. So while typical 70mm motion picture film runs vertically and takes up 5 perforations on the film strip, IMAX runs horizontally and takes up 15 perforations. Yes, that means that the IMAX 70mm standard is three times bigger than normal 70mm and nine times bigger than 35mm.
Now do you know why we've been making such a big deal about it?
Kodak estimates their 35mm film stock to run at an equivalent of 6K digital resolution—that's 2K better than the famous 4K Red One camera. As Kodak makes IMAX film out of the same ink/material that they make 35mm film, to scale, you can argue that IMAX reaches a theoretical equivalent of 18K digital, or 252 megapixels. In real application, even an expert we talked to within IMAX doubted if the viewer can see 18K projected, estimating that 12K might be a more accurate guess.
IMAX film is—unquestionably—far more impressive than any other standard on the block, analog or digital. So how the heck can IMAX claim they can take a normal 35mm film, like Star Trek, and play it on IMAX screens?
(Left, 35mm reel. Right, IMAX reel.)
To be fair, this insanely high resolution 70mm film format is only used in the huge free-standing IMAX theaters found in museums and parks throughout the world. As you might recall from our previous story on IMAX "retrofitting" in multiplexes, IMAX's digital projection system used in those theaters is a mere 3K or 4K in resolution. There's definitely a double standard, and though it's still an impressive theater experience, it's not the same and you have the right to feel a bit ripped off if you're expecting a 70mm print.