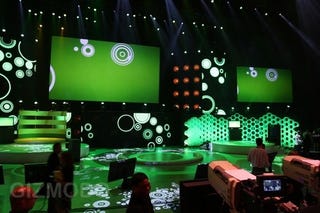 We're inside USC's Galen Center in lovely pre-apocalyptic LA, waiting for the Microsoft E3 keynote to kick off—it goes down in half an hour at 1:25PM Eastern, but our liveblog kicks off right now. What's Microsoft gonna unveil?
Archive below:
2:30 AM ON JUN 1 2009
matt:
Hey guys, we'll see you right here live from Microsoft's E3 keynote at 10:25am Pacific–that's 1:25pm Eastern. Of course, you'll want to be here a little earlier for the pre-game coverage. See you then!
9:59 AM ON JUN 1 2009
Mark Wilson:
We're live in LA, which really means that we're at USC's Galen Center, shoulder to shoulder with our pals at Kotaku. Microsoft is pumping house music. There are lots of green lights. And the show will start at 10:25. Why 10:25? Microsoft moved the press conference up by five minutes in an emergency email last night.
10:02 AM ON JUN 1 2009
matt:

10:04 AM ON JUN 1 2009
Mark Wilson:
So what can Microsoft do with an extra 5 minutes? The rumor is a Beatles reunion between Paul McCartney and Ringo Starr (probably for the new Beatles Rock Band game). Apparently said fabled reunion, should it ever take place, would last precisely 5 minutes before Yoko Ono showed up and started a fight.
10:05 AM ON JUN 1 2009
matt:

10:13 AM ON Jun 1 2009
Mark Wilson:
BTW, Gizmodo will be liveblogging everything Microsoft announces today. But Kotaku is around, too. Check out their liveblog (in another tab, of course!) here.