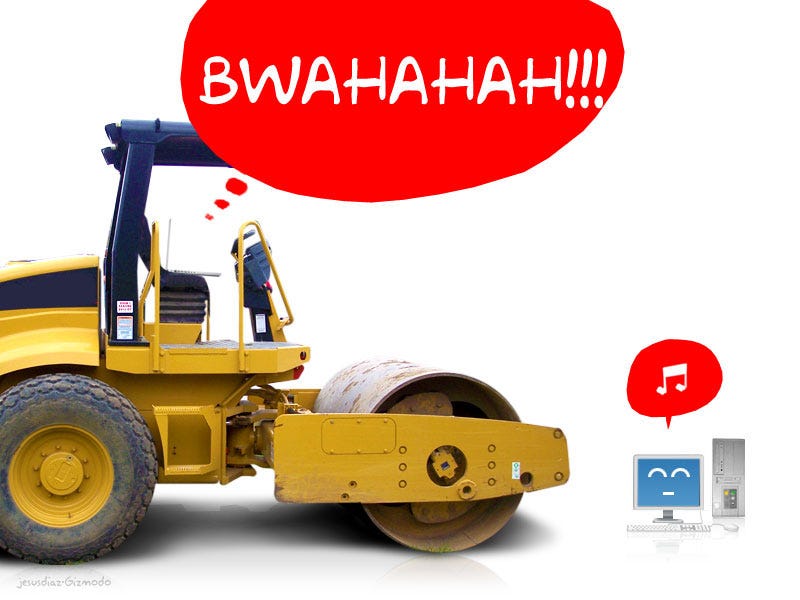 Desktop PCs have been in decline for a decade, and countless people have said their piece about it. But new evidence suggests the desktop tower's death spiral is underway—and we're not too broken up about it.
I say this as a guy who was baptized into the tech world with a desktop; who still obsessively follows the latest PC components from Intel, Nvidia, ATI and the like; who has built, fixed or upgraded more towers than I care to remember; and who, until a few years ago, was an avid PC gamer. As someone who would be, by most measures, a desktop-PC kinda guy, I just can't go on pretending there's a future for them.
The State of the Industry
This is more than a hunch; a grim future is borne out by the numbers. A week ago, iSuppli issued a broad report on the state of the PC industry. The leading claim was predictable: The PC industry was experiencing lower-than-expected quarterly sales—down about 8% from the same time last year. This included laptops, and made sense, because the whole economy's gone to hell, right? People aren't buying computers.
Except that's not quite what's happening. In the same period, laptop shipments—already higher than desktop shipments on the whole—grew 10% over last year. Desktops were entirely to blame, dropping by an astounding 23%. That's not decline—it's free fall.
Stephen Baker, an analyst for industry watchers NPD, shared with me a wider picture of how retail PC sales break down. The way he put it made measuring the rise and fall of sales percentages seem dumb—there really aren't any sales to lose: "In US retail, 80% of sales are notebooks now," he said. "Start throwing in stuff like iMacs and all-in-ones"—which share more hardware DNA with laptops and netbooks than traditional desktops—"and it gets even higher."
The Buyer's Dilemma
To understand why this is happening doesn't take anything more than a little empathy. Put yourself in the shoes of any number of potential consumers, be it kids, adults, techies, or luddites. In virtually any scenario, a laptop is the sensible buy.
Take my dad. Despite spending three decades in front of commercial jet instrument panels, his relationship with computers is, at best, strained. When he came to me a few months ago asking for advice about a laptop to replace his desktop, I assumed it was a just a whim, based on what he saw happening around him. It wasn't, at all. As someone who uses a computer mostly for news, email, music, etc—like a significant part of the population—he was actually being intensely rational. A laptop would do everything he needs simply and wirelessly, with a negligible price difference from a functionally equivalent desktop. If he wants a monitor, keyboard and mouse, he can just attach them. Choosing a desktop PC wouldn't just be a not-quite-as-good choice—it'd be a bad one.
The Tradeoffs
Let's look at mainly stock examples taken (hastily) from Dell's current product line. Their configurations could be tweaked and changed to make desktops look slightly better or slightly worse, but we chose them because they are typical budget-minded consumer choices. We are not talking about workstations, and we're not talking about all-in-ones, because if anything, they are keeping this category alive. When it comes to pure household computer buying, you can hunt for deals all you want, but laptops and desktops are more closely paired than you might expect.
That's not to say that there aren't noticeable tradeoffs. Graphics performance, although I wasn't specifically angling for that with these configurations, is generally better in a desktop. Likewise, hard drives—being that desktops use larger, cheaper 3.5-inch units—are faster and more capacious across the board. Greater amounts of RAM can be had for less in a desktop, the optical drives can be slightly faster, and the ports for those and other drives can be used for expansion.
But these tradeoffs aren't nearly as pronounced as they once were, nor are they as consequential. On account of the huge demand and sales volume, newer mobile processors have become a hotbed for innovation, now rivaling most any desktop processor, and mobile graphics engines—though still markedly inferior to dedicated desktop cards—have improved vastly in recent years, to a point where most consumers are more than satisfied.
And if you really look out for them, there are some amazing deals to be had on new notebooks. (Look at Acer's 15-inch, 2.1GHz Core 2 Duo, 4GB DDR3 RAM laptop with 1GB GeForce GT130 graphics card and Blu-ray for $750, and then try to build the equivalent in a desktop at the same price.)