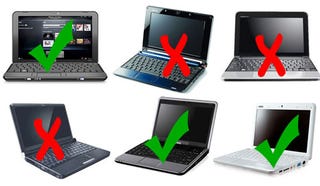 BoingBoing Gadgets' netbook compatibility chart is a great resource for putting Mac OS on netbooks. But before taking the Hackintosh plunge, here are the major contenders' strengths, pitfalls and quirks to consider, plus guides for when you (carefully) jump in.
Rob's chart, with all its scary red marks and mysterious orange ovals, has the tendency to give the impression that the outlook is fairly bleak; almost every row of "confirmed working!" ticks is broken up by at least one pesky caveat, and some netbooks on the list are not sold anymore. But your prospects really aren't so bad. Buck up, kids! Here's what that chart means, practically, with a real-world rundown of what these netbooks can offer, what they can't, and how best to try your hand at Hackintosh.
The HP Mini 1000
Status: In production
Now that the Dell Mini 9 has passed on, in retail terms, this is your best option. Main components are compatible across the board.
What you get: A well-styled 10.2-inch machine with respectable guts, a notoriously great keyboard and an increasingly reasonable price. In fact, the slightly smaller Windows-less 16GB SSD version, a prime candidate for OS X-ification, is listed on Best Buy's site for $280 right now.
What you sacrifice: I think the styling works; some people get turned off by the large bezel around the screen, though it's on par with other 10-inch netbooks. Many Hackintoshers find little gremlins after install—lack of fan speed control and temperamental Wi-Fi control, to name two—which can generally be fixed, though rarely simply. By and large, though, this is as good as OS X gets on a cheap netbook.
Resources: Install guide, with video; support forums.
Dell Mini 9
Status: Out of production
This was, and still is, a fantastic candidate for Hackintoshing. As such, they're not that easy to find for a reasonable price. Even Dell's been getting in on the post-Mini-9 action, rereleasing the little laptop for brief period last week. UPDATE: The Vostro A90, the Mini 9's equally Hackintoshable business counterpart, is still around in some retail channels.
What you get: Just like the HP, Dell's Mini 9 lays claim to near-total hardware compatibility, including mobile broadband support. The fact that everything just kinda works is pretty wild, if you think about it.
What you sacrifice: Battery life isn't great. And since release, the Mini 9's hardware has aged a bit. That said, entry-level netbooks all more or less live on the verge of obsolescence by definition, so having a slightly older Atom processor than your friends shouldn't be much of a concern.
Resources: Our definitive install guide; support forums.