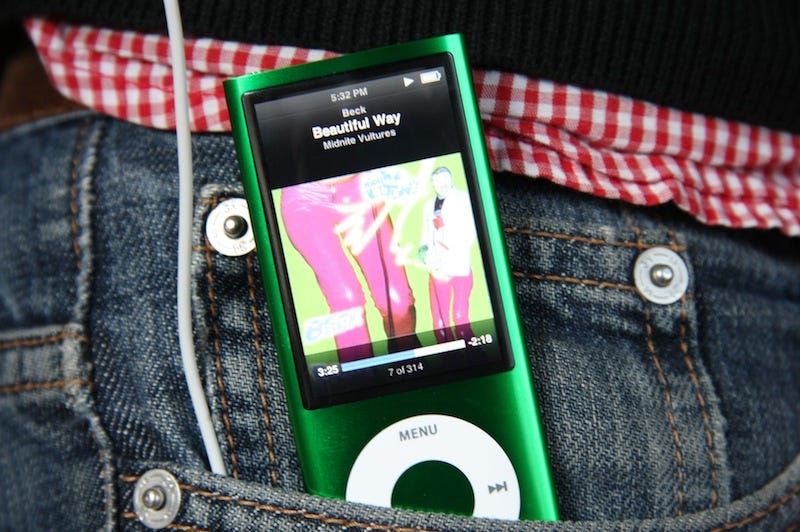 The newest iPod Nano is incontrovertibly a step up from last year's model, crammed with new features including a video camera. But can the Nano stay the same cool little player while simultaneously invading the Flip-cam market?
This new Nano—the 5th generation—comes in the same 8GB/16GB sizes as the last one (and the one before that, actually), though it costs slightly less than the original price of the 4th generation Nano (which was $150/$200). The $20 price drop is nice, but we'd have preferred a capacity bump with the same price. Correction: This section originally compared the 5G Nano's price to the very recently discounted 4G Nano's price( $130/$150)—but as that price was only in effect for a couple days, it's more accurate to compare the 5G price to the 4G's launch price. Sorry for the confusion.
Body
The new Nano has the same body as the 4th generation, but there are definite changes afoot. The screen takes a bump from 2 inches to 2.2 inches—a jump that may sound tiny but is surprisingly substantial. If you're used to the old 2-inch screen you'll definitely notice and appreciate the extra space for navigation. The resolution goes from 240x320 to the oddball 240x376. Though wider when viewed lengthwise, the new screen still isn't 16x9; even widescreen videos will be slightly letterboxed due to the unconventional size. Aside from the added real estate, it's also noticeably brighter and sharper than the previous model. It may still be too small to watch a two-hour movie on, but it's a pleasure to use for everything else, including shorter video clips.
Unfortunately, that larger screen comes with a caveat: The click wheel is even smaller than earlier Nanos. If you found the previous Nano's click wheel slightly thinner and harder to hit than you prefer, this will be even worse. If you had no problems before, then the slight decrease in size shouldn't affect you much. I personally found it too small, and my thumb sometimes hit the area around the controls instead of the control itself. This is especially true when the Nano is docked.
The anodized aluminum finish is also a little different—there's an added step in the process that makes it shinier and brighter than the previous generation's comparatively subdued matte finish. Oddly enough, it actually feels slightly lighter than the last model, though no less solid—this is an extremely durable player. It doesn't bend under pressure from any angle and a nerve-wracking fall onto a hardwood floor had no adverse effects. However, I found that sharp metal objects like keys will leave scratches, while the previous matte Nano showed no scratches under similar abuse. One bit of bad news: People who hated the sharp corners of the last Nano will have to put up with them for at least another year.