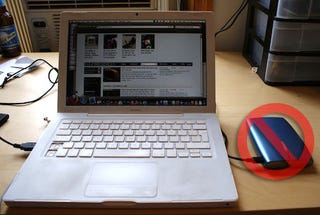 People don't neglect backing up their computers because it's hard—it isn't, at all. No, people file into the inevitable death march of data loss for one reason: Backing up usually costs money. But it doesn't have to.
When your concerned friends and family insist that you have to back your data up (as anyone who's seen my atrociously beaten-down laptop in the last few months has done to me) they're effectively telling you two things: That backing up your data will save you a massive headache in the future, because more likely the not, your hard drive will fail; and, less bluntly, that you need to buy a hard drive. And who wants to do that? It's hard to lay out the cash for a backup hard drive, since the payoff is uncertain, and (hopefully) far away. It's a good investment—not an easy one.
The good news is, most of us cheapskates can still keep our most important files safe without spending a dime, or wasting more than a few minutes. Here how:
Note: These methods don't give you traditional, full backups—they are ways to keep copies of the files that matter most to you, like your documents, photos, music and videos.
Share

Do you live with someone else? Do you share a network with someone else? Then hey, you've got an ready-built backup system right there! There are a few ways to deal with this setup, from stupid-simple to moderately complex.
First, you need permission. Whoever your networked buddy is, sit them down and have a talk. Give them a glass of milk, and explain to them how important data backup is. Persuade them. Coax them. Scare them. Offer to store their backups in exchange for them storing yours. Great! Now you have a partner in data safety. Congratulations.
The easiest, most direct and least intimidating way to get free backups is to set up simple file sharing on your PC or Mac. On the PC, it's just a matter of ticking a few boxes and setting a few parameters (Windows XP, Windows Vista, Windows 7) and on Mac, it's not much harder (To another Mac, to a PC, courtesy of Lifehacker).