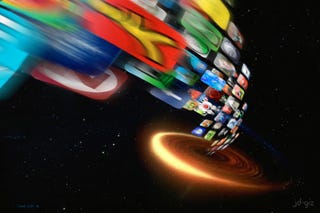 It's uncanny. When known software gets repackaged for iPhones and iPod Touches and passes through the hallowed gates of the App Store, something happens: Almost invariably, it gets cheaper. Waaay cheaper. Good right? Well, not always.
The App Store is a strange new place for developers. Veterans and newcomers engage in bareknuckle combat, driving prices down to levels people wouldn't have imagined charging just a few years ago. Margins drop to razor-thin levels while customers expect apps to get cheaper and cheaper, but with ever increasing quality and depth.
For developers, for other software platforms and potentially for the increasingly fickle customers themselves, it's uncharted, and treacherous, territory. But the most bizarre thing of all is—in an effort to keep people in the App Store, and to prevent competitors from getting a toehold in the mobile app business—Apple's charting a course straight into it.
"The App Store is a very competitive environment," says Caroline Hu Flexer, co-founder of Duck Duck Moose, an indie developer of children's edutainment apps like Itsy Bitsy Spider. "As an independent developer without a large PR budget or well-known brands, it can be very challenging, and you're pretty much at the mercy of Apple."
The Problem

Most iPhone apps had no life before the App Store, and currently have no life outside it. But with those that did, you start to see a pattern. App prices could reasonably be expected to fall over time—an older game is worth less to customers than a newer game, and with other types of software, a late-stage price drop is a great way to scoop up late adopters. What's strange, though, is how prices dramatically collapse after hitting Apple's store.
Two weeks ago we flagged some bizarre differences in pricing between equivalent PSP and iPhone games. Big titles, like Tetris and Fieldrunners, were inexplicably cheaper on the iPhone, even in cases where they were executed better. This didn't make a whole lot of sense. As it turns out, it had nothing to do with Sony and the PSP, and everything to do with the App Store.