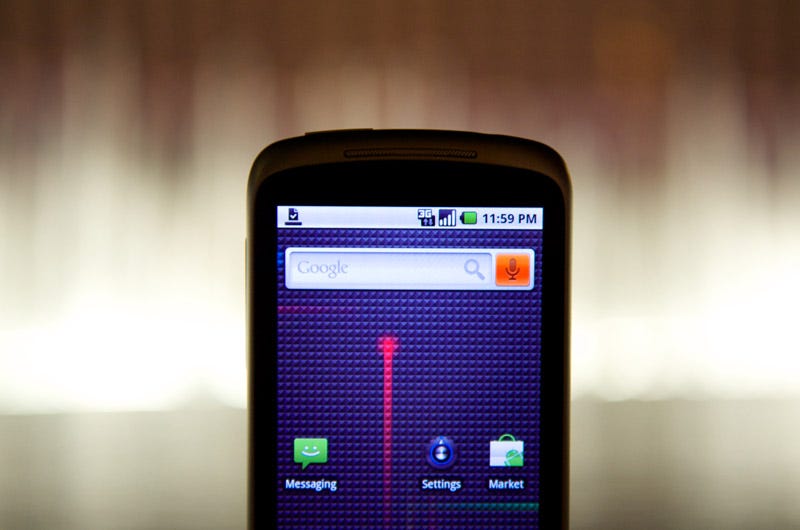 The Nexus One is an over-hyped Android phone. But that doesn't stop it from being the best Android phone. It is, for two reasons: Hardware and software.
Despite the buzz, it's not revolutionary, certainly not because of the way it's being sold—unlocked for $530 or subsidized, with a T-Mobile contract for $180. Sure, Google created its own web store that breaks the act of purchasing the device away from choosing a carrier—it'll soon even be sold by Google for use on the Verizon network. But people have been doing this for years by buying unlocked GSM phones from Nokia and Sony Ericsson and hooking them on to any GSM provider. It's just not the giant step forward that everyone was expecting.
Specs
Quickly, the specs. The Nexus One—built for Google by HTC—has a 1GHz Snapdragon processor, 512MB RAM, 32GB-capable microSD slot, a 3.7-inch AMOLED capacitive touchscreen display at 800x480, a 5-megapixel camera with LED flash and 720x480 video capture @ 20FPS, dual microphones for noise canceling and a trackball. There is no slide-out keyboard—everything's done with the onscreen virtual keyboard.
On paper, those specs are impressive. In actuality, each bit has its own quirk that makes the Nexus One less than perfect and just good. The 5-megapixel camera is built by HTC in such a way that the bezel around the ring juts out noticeably from the otherwise smooth back. The bulge protrudes just enough to either scratch surfaces that it's placed on, like your glass table or your laptop, or even scratch the lens if you're unlucky enough to rub it over something rough.
The AMOLED screen is gorgeous, and all the colors pop to the point that it makes both the iPhone 3GS and the Droid look washed out. It's really, really good. And it has a generous 480x800 resolution—slightly shorter than the Droid's, but still very ample for a phone, when compared to the iPhone's 320x480. But, again, as good as the screen looks, it doesn't have multitouch support in the US. No matter what the reason for that is, it's frustrating to the end user. But, on the bright side, every input you're giving it is more responsive than on the Droid, because of the improved internals.