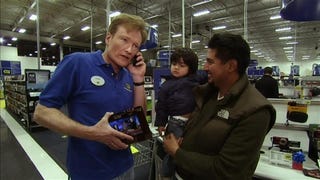 Conan O'Brien just released a statement saying he will not host The Tonight Show if it's pushed away from the local news. He also says the show's historic timeslot is essential to its integrity, despite DVRs and streaming video.
The story to date: The Tonight Show has aired for an incredible 55 years on NBC. It's one of a child's handful of truly legendary American shows, one that both kids and their parents grew up watching every night. Historically, it airs at 11:35, just following the late local news, and ever since Johnny Carson took over from Jack Paar in 1962, the show has been a ratings juggernaut, through Carson's 30 years and Jay Leno's 17. In 2004, NBC announced that Conan O'Brien, then hosting Late Night (following The Tonight Show), would be taking over the show five years hence. And then everything went to hell.
After 17 years of hosting The Tonight Show, Leno wasn't just about to retire with his airplane hangar of cars and his reputation as the Kraft Macaroni and Cheese of comedy: NBC gave him a daily hour-long show at 10PM. Shoehorning Leno in at 10PM, every day, was a ballsy move—and it bombed. At the same time, while critically acclaimed (check out comedian Patton Oswalt's description of Conan's Tonight Show here), the new Tonight Show was failing to achieve the ratings it had under Leno (2.8 million to Leno's 5 million). Despite past evidence that Conan just needs a little time to grow, NBC decided last week to shake up their new late-night schedule. The network proposed cutting The Jay Leno Show to a half-hour, moving it just after the local news to the 11:35 slot historically claimed by The Tonight Show, and shoving Conan's fledgling Tonight Show back a half-hour, to 12:05. Conan fans, both in the media and in the public, reacted angrily—how dare NBC push the venerable Tonight Show after midnight, just to make room for a show nobody likes? Conan himself responded on his show—check out the clips from his monologue (and from Letterman and Craig Ferguson) over here.