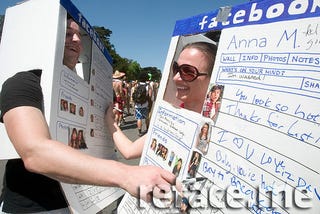 An app demoed today at the MWC identifies individuals—and pulls up their profiles, with facial recognition—just by looking at them. That's some fancy futuristic stuff right there... although there may be darker side. UPDATED:
The Face.com-powered app from Comverse can recognize a friend or colleague and automatically show you links to their profile or pictures and let you message them without accessing your contact list. Great so far! But according to the press release, it's not just limited to the people you know:
# Acquaintances: The app has the potential to connect people before they even know each other's names. If you bump into someone who you met before and he or she looks familiar but you can't remember why, the app will locate that person's online profile to put a name to the face.
That could be awkward! Especially if you end up being able to access the Facebook profiles of everyone in a bar from when you walk in. Then again, I'm sure there are privacy protocols built in... although those are far from fail-safe.