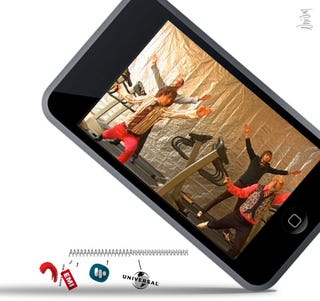 It's a lousy time to be a record label. Profits are tanking, bands are angry—OK Go just ditched EMI—and YouTube and BitTorrent changed the game. Still, some labels are transforming themselves to help musicians in the digital age.
"Change or Die" may sound like hyperbole, or an idle threat, but for the music business, the two alternatives have never been more real. EMI may very well go extinct in the coming months, and all of the major labels are fighting losing battles. But all is not lost.
The traditional role of a record label, in the broadest sense, is to bankroll a band until they start making lots of money, at which point the label gets to keep most of it. They own the master recordings a band makes, and by taking on this ownership they put all of their resources behind selling said recordings.
This setup makes sense when bands lacked the wherewithal to produce and record their own albums and when manufacturing and distributing physical copies of albums and marketing said albums costs hundreds of thousands of dollars. It also makes sense when a popular album will sell millions of copies at $15 a pop.
But that's definitely not the case now. Record stores are dying at an alarming rate, and fewer and fewer people are buying CDs every day. It's safe to say that the current generation of teenagers has never perused record stores as a normal activity; it's all downhill from here for physical music sales. And FM radio isn't doing too hot either. In short, everything that the music industry has known to be true for the last few decades is quickly turning to dust. Big labels can still bank on country, R&B and pop acts, but the bottom has already fallen out on alternative groups and other internet-friendly genres. And that's just the beginning.
The Old, Dead Way of Doing Business
The way bands operate has changed so much in the last decade that what a label can provide and what bands require of a label has changed drastically, faster than labels have been able to adapt.
Manufacturing and distribution used to be the cornerstone of a label's business; every major label owned its own plants to make the albums and also dealt with shipping the albums worldwide. Today, only Sony still owns plants that manufacture CDs, with the other three big labels outsourcing manufacturing to them. But they all still have reps who have to go out to record stores and make sure that their albums are getting proper shelf space. They have to deal with defects and returns. There are lots of resources required to deal with the manufacture and distribution of a physical product, but that physical product is quickly headed towards irrelevancy.
The biggest music stores are now virtual, so there's no need for someone to go gladhand every Sam Goody manager so they give you endcap space for Use Your Illusion II. The iTunes Music Store sells 25% of the music sold in America as of last August, and that number is definitely going up, not down.
According to the IFPI, physical sales of music dropped 15.4% globally between 2007 and 2008. But in that same year, digital sales rose 24.1%. And Nielsen SoundScan numbers show that the number of units sold between 2006 and 2009 rose from 1 billion per year to 1.7 billion per year, with a unit referring to either an album or a song sold. It's a significant increase, but when someone buying three songs counts the same as someone buying three CDs, you can see why the labels are losing money despite the positive-sounding stat.

But for unsigned bands, companies such as TuneCore and CD Baby act as middlemen between them and digital storefronts like iTunes for very small amounts of money; getting your album up on major stores such as iTunes, Amazon and eMusic will set you back about $47 through TuneCore. And you retain all ownership of your music and keep all royalties, unlike working with a record label.
And TuneCore's internal numbers show that online sales are growing even faster for independent acts than those already well established. TuneCore CEO Jeff Price told me that between 2007 and 2009, TuneCore artists have gone from earning $7-8 million a year to $31 million, with $60 million in earnings projected for 2010. That's insane growth, to be sure, but it's got a long way to go before it represents a sizable proportion of global music sales. To put things in perspective, the IFPI recorded $4.9 billion in sales for 2008.
Furthermore, these days it's easier than ever for musicians to record music without an expensive studio. Software such as Reason, Pro Tools and Logic can be bought for $300 or less, and run on a mid-range laptop. Cheap mics and gear can be found all over eBay and Craigslist. Tie everything together with a $200 to $500 mic preamp analog-to-digital/digital-to-analog box, and you have a mini-studio in your bedroom.
And music blogs have turned the way artists are discovered on its head. It used to be that high-paid A&R executives would scour clubs to find underground bands to sign, acting as the filter between the millions of mediocre bands and the discriminating public. Today, obsessive music fans scour clubs and the web for free, discovering new acts and writing about them on blogs. Labels then discover bands from these blogs. The A&R system is no longer as relevant.
Marketing and promotion, another cornerstone service that labels provide, has also been transformed by the web. You no longer need radio play and ads in Rolling Stone to get your band noticed. When a band makes a music video, there's less of a need for a major label with contacts at MTV to push it through official channels to get it noticed. These days, you can just throw it up on YouTube and get it noticed by some music—or gadget—blogs. The fact that it's a simple click or two from video appreciation to buying actual music is worth more than any paper ad in any dying magazine.
As Voyno from the musicians-as-entrepreneurs blog New Rockstar Philosophy told me, it's very possible for a band to use the internet to replace much of what a label provides:
There are artists on YouTube who use creative on-the-cheap strategies to garner millions of views that direct traffic to their main site, iTunes pages, Facebook page and bandcamp.com profile. They then build an e-mail/text subscription from their new fans, which allows them to offer new merchandise, tickets for shows and other related info directly to fans. The web traffic analytics from all their sites can help them plan successful tours, target Facebook ads, and make better decisions on how to move forward.
These changes have shaken the foundation of the industry, and the biggest labels have borne the brunt of the losses that these changes wrought.
Tough Times for Major Labels
EMI is bleeding money. Earlier this month, it reported a whopping $2.4 billion loss, which, when added to its prior debts, puts it $4.5 billion in debt to CitiGroup. It owes Citi $160 million this month, and it's facing a restructuring plan that'll require an additional investment from its parent company.
EMI is owned by Terra Firma Capital Partners, a British private equity firm that also owns waste management companies, gas stations, residential home builders and movie theaters. To them, the art EMI is releasing is about as important as the trash that Waste Recycling Group collects. If it doesn't make them money, it isn't worth keeping around, 80 years of history or not.
Billboard's Senior Editorial Analyst Glenn Peoples told me that it's not for lack of trying that EMI finds itself in this position. "Labels have cut as many costs as they possibly can, they've taken fewer risks, they've signed fewer artists and tried to make safer bets," he says. "They're doing what they can, but the revenue might not be there to support the way they do business. So it's very possible that the recorded music division of EMI will be sold off and will go elsewhere. An acquisition by Warner Music Group is a possibility, and that would take it down to three majors in recorded music, and that'd be pretty drastic and a lot of concentration between three companies."
An EMI Music spokesperson told me, "EMI Music is doing well. We've reported revenue growth, despite a declining market, and strong operating profit and margin improvement, both in the last financial year and in the current year." But if they can't convince Terra Firma that they have a way out of the quagmire they're in, the possibility of the number of major labels to dropping to three is very real.
And if that happens, what of those remaining three? Universal Music Group is owned by French media conglomerate Vivendi, a company with stakes in the Universal and Canal movie studios and the video game publisher Activision Blizzard amongst other holdings. Sony Music Entertainment is obviously a division of Sony, and we all know Sony has had problems of its own lately. Warner Music Group is the only major without a parent company to answer to, as it spun off from Time Warner in 2004, and its revenue dropped about $3.5 billion last year.