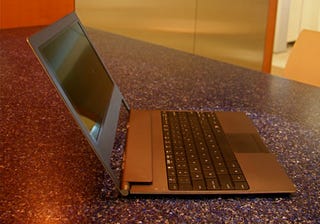 The bad news: Intel's new dual-core Atom processors won't be appreciably more powerful than what's in your netbook now. The good news: a Pine Trail netbook reference design Intel introduced today at Computex is only slightly thicker than an iPhone.
Intel was able to halve the thickness of the current generation of netbooks with their new Canoe Lake "innovation platform," which employs thermal cooling for Pine Trail netbooks instead of the traditional fans. The end result: a super-slim form factor that also runs less hot than today's models. It's important to keep in mind that this is just a reference design, and that we're likely a long ways off from actually seeing a 14mm netbook on a Best Buy shelf.
Those dual-core Atoms, on the other hand, will start showing up in products in time for the holiday. The advances are incremental: improved 720p playback (though you'll still need Broadcom's Crystal HD video decoder for 1080p) and slightly snappier responsiveness.