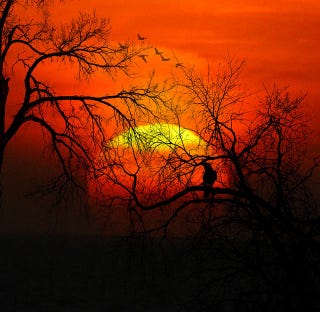 It's the quintessential landscape photo: the sunset, nature's own daily-painted masterpiece of texture, color and light. And for this week's Shooting Challenge, I want you to go out and capture the poor, workhorse of a star's soul. UPDATE
I don't want to focus on this point any longer. But before we move on, I'd like to request anyone taking part this week to really take part this week. We all have sunset photos in our collection—definitely feel free to share them in the comments. But in the spirit of Shooting Challenges, weekly homework that helps us all grow as an artistic community, let's all do something new. Cool? Cool.
The Challenge
Capture a sunset however you like, just include those fleeting moments somehow as part of your photo.
UPDATE: And at the request of many, we'll allow sunrise photos as well as sunset. The methods for both types of shots are one in the same, so whichever works better for your region and/or schedule, go for it.
The Method
Technically, photographing a sunrise or sunset isn't extremely difficult so long as you have a tripod. But scouting a location ahead of time to frame your shot—maybe the day before—is a key to success.
Squidoo points out that wide angle lenses will often just shrink the size of the sun in your frame. Telephoto may be the way you want to go.

World Through the Lens warns to be wary of unnatural light sources mixing in your frame as they can be unpredictable.
SLR Photography Guide suggests an aperture of f/8 - f/11 to get the whole image in focus.
Of course, I could see success in breaking the rules on any of those tips. And we haven't even mentioned the possibilities of HDR.