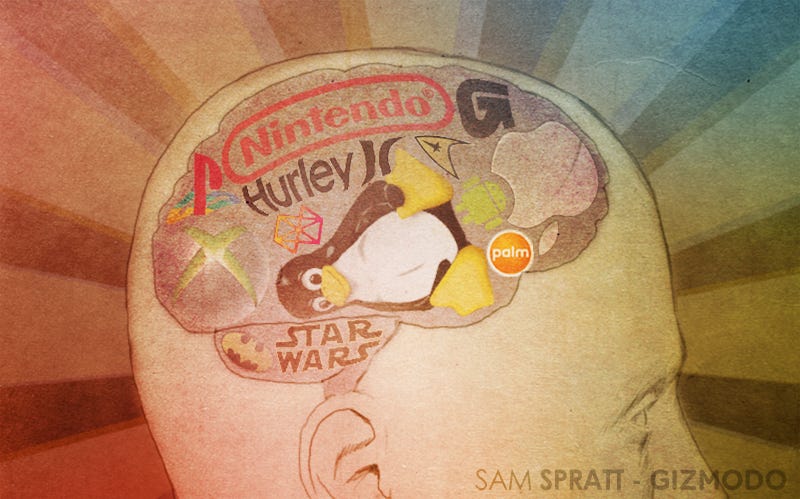 Are you a Mac? Or are you a PC? Are you an iPhone guy or a soldier in the Android Army? If you feel strongly about any of these questions, chances are, you're a fanboy.
What is a fanboy?
It seems strange to think that the definition of fanboy isn't obvious or self-explanatory. But it's actually a dense, tightly packed term with history, a word that's constantly evolving.
It's an insult hurled by snotty internet commenters like a nuke. It's a badge of pride, a virtual tattoo that proclaims "I don't just love this thing, I am a part of it and it is a part of me." Oh, and fanboy is a nearly neutral way to say you tend to prefer one thing over another.
The origins of the word fanboy in its modern incarnation go back to comics culture (when first used in 1919, it literally meant a young fan of the dude persuasion). Specifically, a comic fanzine called Fanboy, created in 1973 by Jay Lynch and Glenn Bray about a pair of comic book, uh, fanboys. According to Harry McCracken's history of the phrase, it was a portmanteau of "fan" and "funboy," meant to be "disparaging….but in a loving way." So, it grew out of comics and sci-fi culture, and eventually spilled over to gaming and tech enthusiasts.
So what's the difference between a hardcore fan and a fanboy? "Fanboy" isn't simply the seventh level in the selfsame hell. What I mean: You can be a fan of the Boston Red Sox. A diehard fan. A fanatic, even. But there is no such thing as a Boston Red Sox fanboy. On the other hand, you can be a Star Wars fan, or a Star Wars fanboy (or fangirl). An Apple fan, or an Apple fanboy. The difference, in other words, is that fanboys are geeks. And they're boys (or girls). A sports fanatic can never be a fanboy. Digging sports is manly. (As long as it's not cricket.)
It also depends on who you ask. Take Daring Fireball's John Gruber whom Business Insider gleefully refers to as "King of the Apple Geeks," and Cult of Mac's Leander Kahney. Gruber says that that "The difference between 'fan' and 'fanboy' is that people use 'fanboy' to describe someone they disagree with and whose opinion they wish to discount." Kahney says it's "a loaded term. It carries an association of irrationality. " But Steven Smith—better known as the Zune Guy—says that "a fan is someone who likes something, and a fanboy is someone who loves something." He calls himself a fanboy. So do a lot of other people. Results of the super informal poll—where 60 percent of people claimed to be fanboys—aside, what's striking is how the label's used in the comments. It's as often a flat description of affinity for a brand or product as it is a marker for someone whose devotion (d)evolves into irrationality.