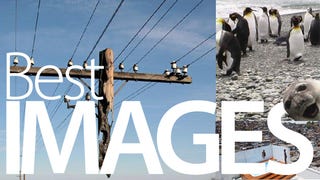 This was a good year to be a photographer. Thievery was thwarted, the Simpsons were spoofed, and suspicious amp stacks were outed. Take a look at our most eye-popping, jaw-dropping, seal-cropping images of 2010!
1. Time Traveler Captured In Museum Photograph
When you look at most of the two dozen or so people in this photograph, which belongs to a Canadian museum, there's no doubt that they're from 1940, the year in which it was taken. But what about that guy?