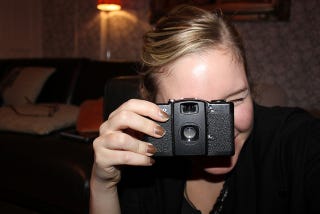 I got three rolls of film processed today, and have been sobbing ever since. Why? Because only 17% of the shots came out. You might say it's my own fault for using film in a digital world, but you're wrong.
I guess it is my fault, though. While I've been using Lomography's toy cameras for a few years, I recently sprung for an LC-A+ camera, which is pretty steep at $250 for something that takes deliberately saturated/wonky/messed-up photos. Getting the odd roll of under/overexposed film back is part and parcel of shooting non-digitally, and admittedly adds to the rollercoaster of emotions Lomographers face with their dinky little cameras. But almost three rolls of film, blank? THREE ROLLS OF PHOTOS FROM THE CHRISTMAS PERIOD, GONE?!
You can see why I've been blubbing away as if I just found out there won't be a tomorrow.
The LC-A cameras take either LR44/SR44 or A76 batteries. Supposedly the former are good for around nine rolls of film, but the latter (as I've just learnt) are notorious for not holding their charge. I'd shot just one and a half rolls of film using the GPA76 batteries that my LC-A+ had come bundled with, before they died and rendered my camera useless.
I guess I just forgot that there's an easy way to tell when the batteries need changing. It's a new camera, and I just didn't think the batteries would run out so quickly, so ignored the fact that the tiny red light on the left-side of the viewfinder had disappeared. I merrily went about my way, shooting on some lovely (and expensive) X-PRO Chrome film over the Christmas period...only to receive 19 shots back today. Most of them with their color and lighting way-off, as the batteries had already started their decline. In fact, the only shot I semi-like in the collection is the one below, of some man I encountered in a little seaside village, holding a pet rabbit. I wonder if he's related to our Jason Chen?