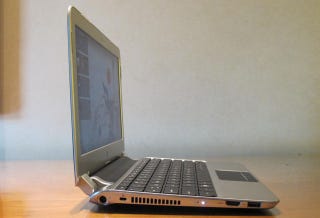 By jumping ship to AMD Fusion guts for their Pavilion dm1 laptop, HP is in the vanguard of manufacturers turning out netbook-sized PCs with full notebook performance. That means 1080p video and DirectX 11 graphics on an 11.6-inch machine.
The dm1 measures less than an inch thick and claims nearly ten hours of battery life—both traits you'd expect of a typical netbook. But unlike its Atom-powered brethren, it can actually churn through streaming 1080p content without a hitch. It supports up to 8GB RAM and ships with a 320GB HD. Also standard on the dm1 3 USB 2.0, 1VGA, and 1 HDMI port. And a certain thrill at knowing you'd actually be able to use HDMI.
Let's not get too carried away; the dm1 still feels oddly heavy despite its listed 3.5 pound weight, and the processor speed is still just 1.6GHz. But the graphics capabilities alone are a promising sign of what's to come for ultraportable, Fusion-powered devices.
Across the rest of its laptop line, HP upgraded its HP Envy 17 and Pavilion models to second-generation Intel Core processors. The Envy also gained HP's proprietary CoolSense cooling technology, while Pavilion desktop PCs add bass-thumping Beats Audio speakers.