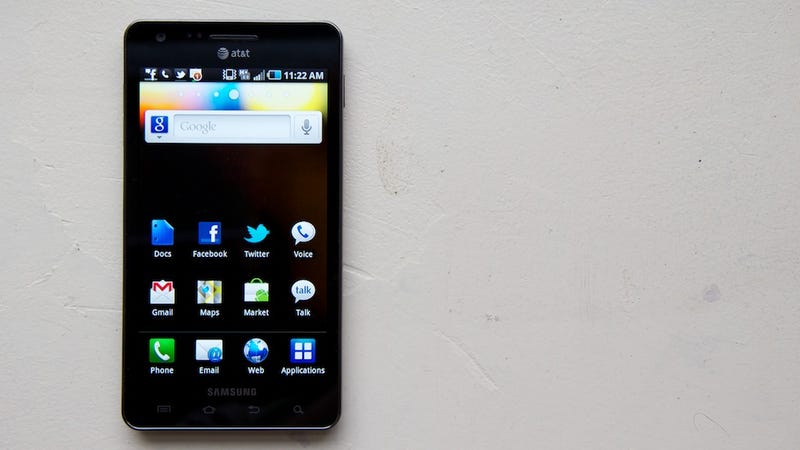 A list of people who might need a phone that sprawls as far and wide as the Infuse: Godzilla, Shaq, the Nathan's hot dog contest winner who isn't the Japanese guy, people who'd giggle every time they say, "My phone is bigger than yours."
WHY IT MATTERS
The funny thing about choices—at least when it comes to computers, smartphones and politicians—is their tendency to melt together into amorphous, indistinct blobs. In the case of phones, they congeal into hulking black slabs, a lot of them running Android. It's hard to stand out. (How many formerly epic 4.3-inch phones are there now?) Unless you're genuinely outstanding. The Infuse, at 4.5 inches, is the next logical step. The fundamental questions: Does the human race need a phone this big? How long before other phones are just as gigantic? Can a phone possibly get any bigger?
USING IT
A refrain: Size matters. Samsung has accomplished a genuine feat of engineering here, divining the absolute limits of how large a phone can be before it ruptures the boundaries spacetime and the English language. You'll feel a surge of dork shame shimmy down your spine every time you pull it out in public, or press it against your face (unless you are a huge dork, live in Asgard or have a deep, unironic appreciation for things sized according to the same design principles as clown shoes). But it is usable, for a single reason: It's very, very thin. Meaning even your tiny human hand can wrap around it, if not entirely comfortably. But is 4.5 inches better than 4.3 or 4 or 3.5 inches? No, maybe, yes—in that order.