What is it?
Pages, Numbers, Keynote; $10 each, iPhone. It's iWork on your iPhone. You can tweak documents you've created on your Mac or iPad, or make new ones with a buffet of characteristically nice-looking templates. Apple crammed an impressive amount of functionality into these—if you're familiar with the iPad apps, you'll be able to jump right in—and while you might have to jump through a few menus, say, to change the font for a scrap of text, editing, resizing, and rearranging elements is perfectly intuitive.
Who's it good for?
People who always find themselves needing to make small edits to documents at the last minute. People who have already dropped $10 on any of the iPad apps.
Why's it better than alternatives?
Apple made them, so they look great, and, for the most part, work great. There's a lot to chew on. A full list of transitions for slides in Keynote; a variety of charts for data in Numbers; fonts for every occasion in Pages.
If you have the time and the patience to see it through, there are all the tools to create a huge diversity of documents right from your phone, which is an impressive feat.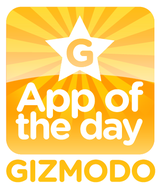 How could it be even better?
The magic of iWork is making it simple to produce a very nice looking document, be it a book report, business presentation, or whatever. A lot of that magic dissipates when you're fumbling through the process with your thumbs on a 3.5" screen, accidentally clearing spreadsheet cells and inadvertently nudging in-line images out of alignment. If you want to make adjustments on the fly—be they simple edits or more complicated changes—iWork on the iPhone is totally capable. But dealing with the visual-heavy documents the other versions of iWork usually trade in can be a big pain. It's not a shortcoming of the app, granted, but it's something to keep in mind if you're thinking about plunking down $30 for the set.
We're always looking for cool apps—for iOS, Android, Windows Phone or whatever else—to feature as App of the Day. If you come across one you think we should take a look at, please let us know.

For more apps, check out our weekly app roundups for iPhone, iPad, and Android
Video music: Kevin MacLeod