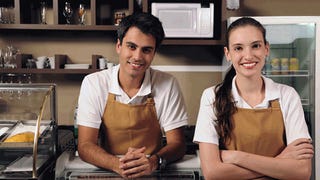 I'm writing this from a café where I've been sitting for hours. I've got an ancient bagel crust and a mostly-empty cup of coffee that's colder than Lebron's greedy little heart. And I'm not leaving anytime soon. Is that appropriate?
I'm no freeloading jerk. I paid to use this Wi-Fi, so I'm going to camp here like a neckbeard in the opening day line for Star Wars Episode Motherfucking Seven. And if you don't dig that, Mr. Manager, you can refund the $9.99 I paid T-Mobile for the hotspot; I'll just use your toilet one more time and be on my damn way. Easy call.
When I pay to use Wi-Fi, I'm going to use it for as long I want—or until my 24 hours runs out, whichever comes first. If you have to give up your credit card number to get a Wi-Fi signal, you should feel free to sit there as long as you want. You've paid your rent. It doesn't matter if the place is full. Keep your seat.
But it gets tricky when a place has free Wi-Fi. What's my obligation then? Sure I know I should buy something. But what, and how much? It's actually a pretty easy. You just need to consider how much a business makes on a cup of coffee.
But first, let's get this out of the way: Working in a café sucks. People are always peeping at your screen and it's dirty and the wireless is dodgy and there's some skank with a productive cough one table over who keeps yapping loudly on her cell phone to somebody named Andréas who you're pretty sure is her ecstasy dealer and you have to pee and you can't get up because somebody will steal your laptop and the bathroom is fucking rank anyway because it's a coffee shop and everybody's poopin' and, oh! I really, really need an office!